You are currently browsing the tag archive for the 'Passion' tag.
JUST BROWSING THE INTERNET AND
FOUND A FEW  TERRIFIC QUOTES
"A man travels the world over in search of what he needs, and returns home to find it." ~ George Moore
~~~~~
"All of our ancestors give us the precious gift of life. Do we use it wisely? Do we use it well? Do we make a name for ourselves and for our children of which we can be proud?" ~ Laurence Overmire
~~~~~
"Hope is passion for what is possible." ~ Soren Kierkegaard
~~~~~
"Mortality means you don't have forever to work things out. You can live your life unexamined but then on the last day you're going to think: 'I've left things a little late." ~ Mitch Albom
~~~~~
"The best way to not feel hopeless is to get up and do something. Don't wait for good things to happen to you. If you go out and make some good things happen, you will fill the world with hope, you will fill yourself with hope."
~ Barack Obama
JUST BROWSING THE INTERNET AND FOUND A FEW  TERRIFIC QUOTES
"I have found that if you love life, life will love you back." ~ Arthur Rubinstein
~~~~~
"Anger … it's a paralyzing emotion … you can't get anything done. People sort of think it's an interesting, passionate, and igniting feeling — I don't think it's any of that — it's helpless … it's absence of control — and I need all of my skills, all of the control, all of my powers … and anger doesn't provide any of that — I have no use for it whatsoever." [Interview with
CBS radio host Don Swaim, September 15, 1987.] ~ Toni Morrison
~~~~~
"Look up at the stars and not down at your feet. Try to make sense of what you see, and wonder about what makes the universe exist. Be curious."
~ Stephen Hawking
~~~~~
"When you're surrounded by people who share a passionate commitment around a common purpose, anything is possible." ~ Howard Schultz
~~~~~
"Love should be an inspiration, not an obligation." ~ Zsa Zsa Gabor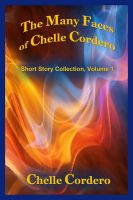 The Many Faces of Chelle Cordero
More than a Friend


a short story by
Chelle Cordero & Barbara Cordero Du-Bois
"Are you doing okay?"
Janis couldn't answer through the lump in her throat. She looked up at Jerry and nodded hesitantly.
He stifled a frustrated sigh, frustrated because he wanted to do something, anything, to take her pain away. It tore him open inside to see her tears and that angered him. Jerry felt guilty for the jealousy he felt knowing that she was crying over her loss of another man.
Janis stood in the center of her living room and remembered the last time she had been in that room with her husband… and wishing she could forget. There would never be another chance to make things right.
###########
Jerry helped take her jacket off and he laid it carefully over the back of a chair.
"I… I think I need to be alone." She noticed the hurt look that he tried to hide. "Jerry I'm sorry. Thank you so much for being here for me. I would never have survived the last few days without you. I haven't been fair to you."
"No, I-"
"Ssh." She put her fingertips on his lips. "You lost him, too. He was your cousin." She continued speaking through her tears. "And all you've done is take care of me since it happened."
#####################
Their Captain called them in from patrol to let Janis know that her husband had died in the line of duty. Billy was working crowd control at a fire scene in the south Bronx when a brick was tossed from a neighboring rooftop. The coroner said he died instantly.
Jerry had been the one to catch her as her knees buckled. He'd barely left her side since.
She caught her breath. "I just need some time."
"Maybe you should ask for some more time off, you know, before you come back to the job." Jerry searched her face. He was so concerned for her.
"I'll be fine." She forced strength into her words.
"Just call if you need, anything. Alright?"
She nodded and stood on tiptoe to kiss him on the cheek.

The Many Faces of Chelle Cordero is a single author collection of short stories featuring Introduction, Pussycat Tails, Holiday Happiness, Not Alone, I Swear That Raccoon Just Knocked on the Door, Stormy Weather, A Mother's Love, More Than a Friend, The Meeting, and The Vacation.
Something for everyone… humor, drama, passion, suspense, and more! Chelle Cordero's first short story collection gives the reader a glimpse into her writer's mind, with humor, poignancy, love, suspense, and more with these nine short stories.
Buy Links
Smashwords (multiple e-book formats)
AudioBook narrated by Wendy Tremont King
from the short story 
Not Alone
I ignored the changing numbers on the alarm clock as long as I could. I still refused to believe that anything that had happened over the past few days was real. It was all a nightmare, that's all.
As my toes sought the warmth of my slippers, the tears began to fall again. No matter how many times I tried to deny it, my best friend was buried yesterday. They wouldn't let Jordan come to the cemetery; every-one blamed him. Even me.
For the two days that Jordan had been hospitalized, they kept him under a suicide watch. That angered him. Not because he wanted to commit suicide, but because it meant that people thought he would want to take "the coward's way out" as he put it and avoid facing what had happened. He said it wasn't his fault, but he still blamed himself.
I left the party that night early, too early to know everything that had transpired. Kimmie's boyfriend dumped her, he left her at the party while he went home with another girl. She was upset and she drank more than she should have. Actually, she shouldn't have been drinking at all; most of the folks at the party were under the legal drinking age – but that's another issue altogether.
Eventually Kimmie wanted to go home and, as it was explained to me, she had trouble even holding onto the keys from her handbag. So Jordan offered to drive her. He drank a beer early in the evening; he was one of the few who could legally, and then he hadn't had anything else. That was hours earlier. The cops even said that his blood alcohol level was well below the legal limits. Jordan was just trying to be a nice guy; besides, he had once had a thing for Kimmie.
I visited Jordan in his hospital room right after I heard about the accident. I didn't even know that Kimmie was dead yet. Jordan was devastated. He didn't need to have his friend's condition confirmed; he knew…
stories included
Pussycat Tales
You never really own a cat, but they do rule the household.
Holiday Happiness
Flashy gifts can come with hefty price-tags, but it's the memories that are priceless.
Not Alone
Sometimes forgiveness seems impossible, but then so is turning your back on a friend.
I Swear That Raccoon Just Knocked on the Door
Take one city girl and send her camping in the woods for a tale of humor and triumph.
Stormy Weather
The ominous skies and howling winds of a hurricane lead to an unexpected and warmhearted friendship.
A Mother's Love
When her child is hurt, there isn't anything a mother wouldn't do to make it better.
More Than a Friend
Best friends become lovers and share a lifetime together.
The Meeting
From a random meeting in the south during WW2 to a marriage and love that lasts for an eternity.
The Vacation
An erotic respite was just what she needed, the man who delivered was what she wanted.
buy links
~~ All Ebook Editions ~~
Touch of Love
Short Story Collection
 by Chelle Cordero
An Empty House: You never know what tomorrow will bring. This is a personal essay about coping with and moving on with the "New Normal". 
The Lost Love: Rejected for her Mexican heritage by the teen-age boy she had a crush on, Lindsay put it behind her. So how come, when they wind up at the same college years later, Lindsay can't get over her anger at the humiliation? And will Brad ever forgive himself for his callous behavior?
The Dead Guy in the Park: An almost end-of-shift call leads a paramedic and her partner to a dead guy in the park. All she has to do is pronounce him so that the coroner can come get the body. What could possibly go wrong?
*includes a bonus Spanish edition El Difunto del Parque translated by Marianna Carranza
Rekindled: Cynthia and Daniel were college sweethearts torn apart by tragedy. A lifetime later they bump into each other again — Is this their second chance at love?
 A Date with Mistletoe: Sometimes you find that it's the "Unanswered Prayers" that are the best things to ever happen. When confronted by the man of yesterday alongside the man who means the world to her, there is no doubt in Rachel's mind that she has the best.
 He is My Brother…: Who can help save the life of a beloved family member? Prayers, hopes and a personal plea for help.
Always, One More Time: Disowned by her parents because of an interracial love affair, Callie Sanders is left alone to raise her son after his father, Jimmy Bernerd, dies fighting in a war on the other side of the world. Desperate to give her son a family she goes to the Bernerd household — what she finds is a second chance at love, acceptance, and family.
Touch of Love Sneak Peek Video
Touch of Love
Short Story Collection
 by Chelle Cordero
Grab your copy today!
Also Available through
!Indigo, Bucher.de, Angus & Robertson, WHSmith, Thalia, Tolino, Streetlib, 3M, Baker and Taylor, Follet, Overdrive, Gardners, Chegg, Google Play, and more!
Author Chelle Cordero
Chelle Cordero writes stories of Passion and Suspense. Vanilla Heart Publishing has published eleven Cordero novels: Bartlett's Rule; His Lucky Charm; Within the Law; Courage of the Heart; Final Sin; Hostage Heart; A Chaunce of Riches; Common Bond, Tangled Hearts; Hyphema; and Karma Visited. She is currently working on her next novel and promises another action packed adventure and heartwarming love story. Chelle has been writing both fiction and non-fiction for the bulk of her adult life and has been with Vanilla Heart Publishing since early 2008.
Her books have earned many plaudits which includes: Bartlett's Rule was named one of Carolyn Howard-Johnson's Top Ten Reads for 2009; Final Sin was an Honorable Mention in the Fiction Category of the 2010 NY Book Festival and a 2009 Pushcart Prize nominee.; Hyphema won the Dec 9, 2011 Friday Book Cover Vote on the Shades of Love website; A Chaunce of Riches was Winner of D. Renee Bagby's readers' choice for The Best Overall First Chapter, April 2010; and Hostage Heart, Final Sin and A Chaunce of Riches had top ten finishes in the 2009 Preditors' and Readers' poll. Chelle was also featured in "50 Great Writers You Should Be Reading" published by The Author's Show in 2010.
Chelle Cordero maintains an author's blog at http://chellecordero.blogspot.com/, and a promotional blog at http://ccepotourri.wordpress.com/. Her website http://ChelleCordero.com offers information on all of her books and her appearances. Bloggers and the media are welcome to visit Chelle's media room at https://chellecordero.com/media/ with downloadable photos and other information.
Be sure to LIKE Chelle's FaceBook page at https://www.facebook.com/AuthorChelleCordero and follow her on Twitter at https://twitter.com/ChelleCordero. You can email Chelle at ChelleCordero(at)gmail.com.
Chelle lives in the northeast with her husband, Mark, and family. They have two adult offspring. Jenni and Marc (& Trish); they also live with three mischievous and spoiled pussycats, one of whom has taken up permanent residence on Chelle's desk. Chelle is a full-time freelance journalist for multiple publications; her articles appear regularly throughout North America and she writes a monthly column on NYS Emergency Medical Services issues as a (former) NYS Emergency Medical Technician (First Responder News).
Vanilla Heart Publishing
Ebooks And Audiobooks and Paperbacks, Oh My!
WEBSITE   https://www.VanillaHeartPublishing.com
FACEBOOK #TEAMVHP
TWITTER @VanillaHeart
JUST BROWSING THE INTERNET AND FOUND A FEW TERRIFIC QUOTES
"But the important thing about learning to wait, I feel sure, is to know what you are waiting for." ~ Anna Neagle
~~~~~
"Our willingness to wait reveals the value we place on what we're waiting for." ~ Charles Stanley
~~~~~
"If you aren't good at loving yourself, you will have a difficult time loving anyone, since you'll resent the time and energy you give another person that you aren't even giving to yourself." ~ Barbara De Angelis
~~~~~
"Every great dream begins with a dreamer. Always remember, you have within you the strength, the patience, and the passion to reach for the stars to change the world." ~ Harriet Tubman
~~~~~
"I've been very lucky to have achieved a lot of the things that I dreamt of achieving as a young man. But, at the end of the day – and I truly believe this – it is not about achieving great wealth or success. Because they don't bring happiness, ultimately." ~ Leonardo DiCaprio
JUST BROWSING THE INTERNET AND FOUND A FEW TERRIFIC QUOTES
"For every minute you remain angry, you give up sixty seconds of peace of mind." ~ Ralph Waldo Emerson
~~~~~~~~
"My mission in life is not merely to survive, but to thrive; and to do so with some passion, some compassion, some humor, and some style." ~ Maya Angelou
~~~~~~~~
"Try not to become a man of success, but rather try to become a man of value." ~ Albert Einstein
~~~~~~~~
"Thousands of candles can be lighted from a single candle, and the life of the candle will not be shortened. Happiness never decreases by being shared." ~ Buddha
~~~~~~~~
"The best way to find yourself is to lose yourself in the service of others." ~ Mahatma Gandhi
 Buy Links
The incredible Author Charmaine Gordon featured me on her blog today,
please come by and leave  a comment – I LOVE comments!
(click the image above)
I have found the paradox,
that if you love until it hurts,
there can be no more hurt,
only more love.
~~~