You are currently browsing the tag archive for the 'NYPD' tag.
Nineteen years ago, September 11, 2001, 2996 people,
2996 HUMAN BEINGS, lost their lives.
There have been innumerable losses since due to
injuries 
and exposure to the toxic dust.
Ceremonies and memorials conducted at the WTC in New York, the Pentagon, and a field in Shanksville, Pennsylvania are all being modified because of the Covid-19 pandemic. In Shanksville PA the ceremony will be without music and victims' name will be spoken by just one reader. At the Pentagon no families will be in attendance, all victims' names will be played on a recording and only Military leaders will be present. And in NYC, there will be DUAL ceremonies — no names will be read at the World Trade Center site; however a few blocks away the Stephen Siller Tunnels to Tower Foundation will allow families to recite their loved ones' names. Earlier this week FDNY held a "limited attendance" ceremony to honor those who have died since 2001 due to toxic dust.
Although originally cancelled, the twin blue Tribute in Light beams WILL be displayed. The Stephen Siller Foundation is displaying memorial lights at the Flight #93 site and the Pentagon. 
This year MORE THAN EVER we need to remember and #NeverForget the sacrifices and horrendous losses suffered that bleak Tuesday in 2001.
As a former Rockland County NY resident, I have always listed those
local residents that we lost on 9/11/2001
Ø

 
Janet M. Alonso 41 Stony Point NY
Ø
Calixto Anaya Jr. 35 Suffern NY
Ø
Japhet J. Aryee 49 Spring Valley NY
Ø
Richard E. Bosco 34 Suffern NY
Ø
Sgt. John Gerard Coughlin 43 Pomona NY
Ø
Welles Remy Crowther 24 Upper Nyack NY
Ø
John D' Allara 47 Pearl River NY
Ø
Bernard D. Favuzza 52 Suffern NY
Ø
Thomas Foley 32 West Nyack NY
Ø
Andrew Fredericks 40 Suffern NY
Ø
Robert Joseph Gschaar 55 Spring Valley NY
Ø
Dana Hannon 29 Suffern NY
Ø
Capt. Frederick Ill Jr. 49 Pearl River NY
Ø
Farah Jeudy 32 Spring Valley NY
Ø
Joseph Marchbanks Jr. 47 Nanuet NY
Ø
John Marshall 35 Congers NY
Ø
Patricia A. McAneney 50 Pomona NY
Ø
Robert Garvin McCarthy 33 Stony Point NY

Ø
Robert William McPadden 30 Pearl River NY
Ø
Luke G. Nee 44 Stony Point NY
Ø
Gerald O'Leary 34 Stony Point NY
Ø
David Ortiz 37 Nanuet NY
Ø
Lt. Vernon Allan Richard 53 Nanuet NY
Ø
Thomas G. Schoales 27 Stony Point NY
Ø
Mohammed Shajahan 41 Spring Valley NY
Ø
Gregory Sikorsky 34 Spring Valley NY
Ø
Catherine T. Smith 44 West Haverstraw NY
Ø
Robert W. Spear Jr. 30 Valley Cottage NY
Ø
Loretta A, Vero 51 Nanuet NY
Ø
Benjamin Walker 41 Suffern NY
Ø
Weibin Wang 41 Orangeburg NY
Ø
Steven Weinberg 41 New City NY
Ø
Capt. David T. Wooley 53 Nanuet NY
**********
this post originally appeared at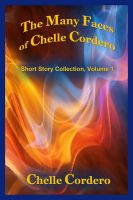 The Many Faces of Chelle Cordero
More than a Friend


a short story by
Chelle Cordero & Barbara Cordero Du-Bois
"Are you doing okay?"
Janis couldn't answer through the lump in her throat. She looked up at Jerry and nodded hesitantly.
He stifled a frustrated sigh, frustrated because he wanted to do something, anything, to take her pain away. It tore him open inside to see her tears and that angered him. Jerry felt guilty for the jealousy he felt knowing that she was crying over her loss of another man.
Janis stood in the center of her living room and remembered the last time she had been in that room with her husband… and wishing she could forget. There would never be another chance to make things right.
###########
Jerry helped take her jacket off and he laid it carefully over the back of a chair.
"I… I think I need to be alone." She noticed the hurt look that he tried to hide. "Jerry I'm sorry. Thank you so much for being here for me. I would never have survived the last few days without you. I haven't been fair to you."
"No, I-"
"Ssh." She put her fingertips on his lips. "You lost him, too. He was your cousin." She continued speaking through her tears. "And all you've done is take care of me since it happened."
#####################
Their Captain called them in from patrol to let Janis know that her husband had died in the line of duty. Billy was working crowd control at a fire scene in the south Bronx when a brick was tossed from a neighboring rooftop. The coroner said he died instantly.
Jerry had been the one to catch her as her knees buckled. He'd barely left her side since.
She caught her breath. "I just need some time."
"Maybe you should ask for some more time off, you know, before you come back to the job." Jerry searched her face. He was so concerned for her.
"I'll be fine." She forced strength into her words.
"Just call if you need, anything. Alright?"
She nodded and stood on tiptoe to kiss him on the cheek.

The Many Faces of Chelle Cordero is a single author collection of short stories featuring Introduction, Pussycat Tails, Holiday Happiness, Not Alone, I Swear That Raccoon Just Knocked on the Door, Stormy Weather, A Mother's Love, More Than a Friend, The Meeting, and The Vacation.
Something for everyone… humor, drama, passion, suspense, and more! Chelle Cordero's first short story collection gives the reader a glimpse into her writer's mind, with humor, poignancy, love, suspense, and more with these nine short stories.
Buy Links
Smashwords (multiple e-book formats)
AudioBook narrated by Wendy Tremont King