You are currently browsing the tag archive for the 'Chelle Cordero' tag.
Cobrir a revelar!
Encontro Com o Carma
Chelle Cordero
Você acredita em karma? Annie Furman tem um dom que permite a ela, enquanto ela dorme, para visitar as pessoas na sua hora de necessidade – mas quem vai estar lá para ela quando ela precisa de ajuda? Sub-xerife Dave Turner está investigando uma série de invasões domiciliares e homicídios. Ele não tem ideia de que a resolução deste caso irá levá-lo para a mulher dos seus sonhos.
Em breve em Português!
Chelle Cordero
Chelle Cordero writes stories of Passion and Suspense. Vanilla Heart Publishing has published eleven Cordero novels: Bartlett's Rule; His Lucky Charm; Within the Law; Courage of the Heart; Final Sin; Hostage Heart; A Chaunce of Riches; Common Bond, Tangled Hearts; Hyphema; Karma Visited; and Annie's Karma. She is currently working on her next novel and promises another action packed adventure and heartwarming love story. Chelle has been writing both fiction and non-fiction for the bulk of her adult life and has been with Vanilla Heart Publishing since early 2008.
Her books have earned many plaudits which includes: Bartlett's Rule was named one of Carolyn Howard-Johnson's Top Ten Reads for 2009; Final Sin was an Honorable Mention in the Fiction Category of the 2010 NY Book Festival and a 2009 Pushcart Prize nominee.; Hyphema won the Dec 9, 2011 Friday Book Cover Vote on the Shades of Love website; A Chaunce of Riches was Winner of D. Renee Bagby's readers' choice for The Best Overall First Chapter, April 2010; and Hostage Heart, Final Sin and A Chaunce of Riches had top ten finishes in the 2009 Preditors' and Readers' poll. Chelle was also featured in "50 Great Writers You Should Be Reading" published by The Author's Show in 2010.
Chelle Cordero maintains an author's blog at http://chellecordero.blogspot.com/, and a promotional blog at http://ccepotourri.wordpress.com/. Her website http://ChelleCordero.com offers information on all of her books and her appearances. Bloggers and the media are welcome to visit Chelle's media room at https://chellecordero.com/media/ with downloadable photos and other information.
Translator for the Portugese Editions
Selma R. Silva
Selma R. Silva has been a translator and interpreter since graduation in 1984, She was born and raised in São Paulo, Brazil and had the chance to study languages since her early teen years. Years of hard work, travel and research have led to the perfect time and place to delve into the rewarding experience of literary translation.
As posted on 
VHP BOOK TOURS http://VHPBookTours.com
After Karma Visited…
Annie's Karma by Chelle Cordero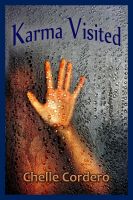 Do You Believe in Karma?
Annie Furman has a gift that allows her, while she sleeps, to visit people in their time of need – but who will be there for her when she needs help?
Undersheriff Dave Turner is investigating a series of home invasions and homicides. He has no idea that solving this case will lead him to the woman of his dreams.
Excerpt from Annie's Karma:
"
We just got into town. I haven't had a chance to make any connections yet. I'm trying to get a job and I have to open a bank account. I just enrolled my son in the school." Donna took the handwritten receipt from Annie's hand. "Thank you. This apartment will be perfect. I'm grateful that you're renting it to us."
Donna explained to Annie that she and her four-year-old son were slowly meandering their way across the country, but she realized that the child needed a stable place to live instead of being on the move constantly. She was driving through and liked the small town atmosphere she noticed in Catawai. Donna told Annie that she was a recent widow and that her husband died of cancer, it was already very advanced when they discovered it. Neither she nor her late husband had any family. She wanted to move away and get a fresh start where there weren't so many memories. She wanted someplace where her little boy could grow up without the constant reminders of a dad who was no longer there for him.
"
There wasn't much that Gene left us, but he had taken a small term life insurance policy, so at least I have cash in my pocket to pay our way for a bit without worrying too much." Donna shrugged. "Hopefully I'll get that job I interviewed for…"
Annie listened sympathetically and tried not to ask too many questions, but she noticed a look in Donna's eyes that she thought she could understand even without knowing why. She couldn't say for sure, but she knew that Donna wasn't being entirely truthful. Annie suddenly realized why she felt connected with the woman. She wondered if she had ever had that same look during the years she needed to escape from Scott. Annie decided not to question Donna's story, at least not for the time being. Maybe she could even find some way to help the other woman.
Buy Links
The story continues…
Annie's Karma,
the sequel to Karma Visited,
is available!
Simultaneous Release!
Print and All E-book Editions
Annie's Karma by Chelle Cordero
Annie Furman moves on from her past and into her future with Undersheriff Dave Turner. Her gifts – or are they her curse? – grow stronger, and she finds out that she is not alone in the realm of astral travel. Dave saved her life, now she has to fight another 'traveler' to save Dave… if she survives.

PRE-RELEASE REVIEW
 Annie's Karma is a super followup novel to Karma Visited. I was intrigued by many things that evolved and expanded throughout the book, not the least of which is the incredibly detailed (although fictional, I must guess) accounts of astral travel, alongside the thriller aspects of the story.
~ Karen Mayes, Beta Reader

Annie's Karma
 by Chelle Cordero
 Grab your copy today!
Also Available through
!Indigo, Bucher.de, Angus & Robertson, WHSmith, Thalia, Tolino, Streetlib, 3M, Baker and Taylor, Follet, Overdrive, Gardners, Chegg, Google Play, and more!
Hyphema
by Chelle Cordero

Amazon – http://amzn.to/2gHpr6b
Barnes&Noble – http://bit.ly/1my5o6z
Smashwords – http://bit.ly/2fAIW4s
iTunes – http://apple.co/2fAJ8AC
I sat down to read Hyphema late one night. I thought I would start it, read for about thirty minutes and then go to sleep; instead, I stayed up till almost four in the morning reading it. Immediately immersed in the story, the tension never let up enough for me to even consider putting it down and coming back to it later.
Matt is an air ambulance EMT, a flight medic. He has just moved his son, and his Pakistani wife, to a small town in North Carolina from New York so he could have this job. The job is his dream job and Sudah, his wife, couldn't be more supportive. She is patient, caring and so obviously in love with Matt and their son that it just spills over onto the page. She's the kind of person I'd like to have for a neighbor, but not everyone, even within the circle of Matt's work buddies and their wives feel that way, but Sudah handles the anger and prejudice with grace and softly spoken words meant to soften hearts and break down the walls of misunderstanding…
Matt and Sudah face obstacles that severely test their relationship and their marriage. I do not want to go into anymore of the specifics here, but while Matt and Sudah's relationship plays an important role in the book, the story is much more of an extremely well written thriller and I definitely recommend reading it.    (read the full review)
Have you stopped by Weekend Writing Warriors
or Snippet Sunday (on Facebook) lately?
Every weekend a whole lotta' authors get together to share tantalizing snippets from their works, some published and some not, and we all comment and offer critiques and encouragement on each. It's Writers hanging out with Writers.
Even if you aren't a writer you are welcome to come and sample our work — it will be like enjoying a passed hors d'oeuvre party. Just click on the links above to find the snippets.
In the meanwhile:
I posted snippets from Hostage Heart,
you can read them by clicking on the links below:
Miss Goody Two-Shoes  ~  02/22/15
No money for ransom ~ 03/01/15
Because they sleep together ~ 03/08/15
Mamere called it vibrations – 03/15/15
JUST BROWSING THE INTERNET AND FOUND A FEW TERRIFIC QUOTES TO SHARE
"I don't believe you have to be better than everybody else. I believe you have to be better than you ever thought you could be." ~ Ken Venturi
~~~~~
"The Constitution is the guide which I never will abandon." ~ George Washington
~~~~~
"Health is the greatest gift, contentment the greatest wealth, faithfulness the best relationship." ~ Buddha
~~~~~
"The world is a dangerous place to live; not because of the people who are evil, but because of the people who don't do anything about it." ~ Albert Einstein
~~~~~
"We may have all come on different ships, but we're in the same boat now." ~ Martin Luther King, Jr.