You are currently browsing the tag archive for the 'Interracial' tag.
"Romance isn't always full of candle-lit dinners, cute gifts, and bouquets of flowers. Sometimes there's a darker side to love. If you're a fan of both classic romance novels and thrillers, then consider getting the best of both worlds with these nine books that feature passion, intrigue, and a healthy dose of mystery."
HYPHEMA was chosen Number-ONE
in a list of
9 Provocative Romantic Thrillers
Thank you to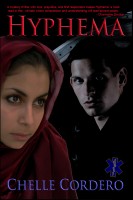 Prologue
Matt was looking down over the dark water as they were being buffeted by the winds.
"It's always choppy over here," shouted Tony, the pilot. "You get used to it after a while."
They had just finished their pre-flight check when they got banged out on an emergency transport job. The patient, a diabetic male in his forties, was in distress after being pinned under a car in a freakish accident. The bulk of the damage was centered on his back after the car fell off of its jack. His urine was filled with blood and he needed immediate transport to a level one trauma center.
North Carolina's Outer Banks had a reputation for beauty and serenity. Several old fishing villages dotted the barrier islands along with spacious homes and bed and breakfasts. Matt was thinking of taking Sudah and Aden there for a weekend jaunt soon.
Luckily the area was served by a state of the art hospital center so any injured or sick could be treated there without the hour-and-a-half commute a car would need. With a serious trauma, patients could at least be stabilized, and air transportation used to one of the trauma centers inland.
"Have you ever been out here before Matt?" Frank was a thirty three year old critical care flight nurse who had grown up in the area.
"Nope. First time." Matt had not ventured far from New York where he grew up until he decided to move his family to North Carolina after a job offer from NC Air EMS.
The LZ was lit up on the grounds of the hospital and Tony was preparing to put the chopper down. Matt and Frank remained quiet. All three were communicating through the headsets in their helmets; the sound of the rotor above them would have made it too noisy to talk otherwise.
It was still his first week in the new job and only his second living in the area. It amazed him that Sudah was so supportive even though he practically yanked her and the baby from New York. She stood by him, never questioning his decision and saying goodbye to their friends without even a tear. He was going to do everything he could to make sure this worked.
Matt felt the EC 145 bank hard to the right as Tony brought the bird around. His harness held him securely in the seat. He smiled as he watched the landscape grow bigger and realized that he was finally in his dream job.
Buy Links
~~ All Ebook Editions ~~
Touch of Love
Short Story Collection
 by Chelle Cordero
An Empty House: You never know what tomorrow will bring. This is a personal essay about coping with and moving on with the "New Normal". 
The Lost Love: Rejected for her Mexican heritage by the teen-age boy she had a crush on, Lindsay put it behind her. So how come, when they wind up at the same college years later, Lindsay can't get over her anger at the humiliation? And will Brad ever forgive himself for his callous behavior?
The Dead Guy in the Park: An almost end-of-shift call leads a paramedic and her partner to a dead guy in the park. All she has to do is pronounce him so that the coroner can come get the body. What could possibly go wrong?
*includes a bonus Spanish edition El Difunto del Parque translated by Marianna Carranza
Rekindled: Cynthia and Daniel were college sweethearts torn apart by tragedy. A lifetime later they bump into each other again — Is this their second chance at love?
 A Date with Mistletoe: Sometimes you find that it's the "Unanswered Prayers" that are the best things to ever happen. When confronted by the man of yesterday alongside the man who means the world to her, there is no doubt in Rachel's mind that she has the best.
 He is My Brother…: Who can help save the life of a beloved family member? Prayers, hopes and a personal plea for help.
Always, One More Time: Disowned by her parents because of an interracial love affair, Callie Sanders is left alone to raise her son after his father, Jimmy Bernerd, dies fighting in a war on the other side of the world. Desperate to give her son a family she goes to the Bernerd household — what she finds is a second chance at love, acceptance, and family.
Touch of Love Sneak Peek Video
Touch of Love
Short Story Collection
 by Chelle Cordero
Grab your copy today!
Also Available through
!Indigo, Bucher.de, Angus & Robertson, WHSmith, Thalia, Tolino, Streetlib, 3M, Baker and Taylor, Follet, Overdrive, Gardners, Chegg, Google Play, and more!
Author Chelle Cordero
Chelle Cordero writes stories of Passion and Suspense. Vanilla Heart Publishing has published eleven Cordero novels: Bartlett's Rule; His Lucky Charm; Within the Law; Courage of the Heart; Final Sin; Hostage Heart; A Chaunce of Riches; Common Bond, Tangled Hearts; Hyphema; and Karma Visited. She is currently working on her next novel and promises another action packed adventure and heartwarming love story. Chelle has been writing both fiction and non-fiction for the bulk of her adult life and has been with Vanilla Heart Publishing since early 2008.
Her books have earned many plaudits which includes: Bartlett's Rule was named one of Carolyn Howard-Johnson's Top Ten Reads for 2009; Final Sin was an Honorable Mention in the Fiction Category of the 2010 NY Book Festival and a 2009 Pushcart Prize nominee.; Hyphema won the Dec 9, 2011 Friday Book Cover Vote on the Shades of Love website; A Chaunce of Riches was Winner of D. Renee Bagby's readers' choice for The Best Overall First Chapter, April 2010; and Hostage Heart, Final Sin and A Chaunce of Riches had top ten finishes in the 2009 Preditors' and Readers' poll. Chelle was also featured in "50 Great Writers You Should Be Reading" published by The Author's Show in 2010.
Chelle Cordero maintains an author's blog at http://chellecordero.blogspot.com/, and a promotional blog at http://ccepotourri.wordpress.com/. Her website http://ChelleCordero.com offers information on all of her books and her appearances. Bloggers and the media are welcome to visit Chelle's media room at https://chellecordero.com/media/ with downloadable photos and other information.
Be sure to LIKE Chelle's FaceBook page at https://www.facebook.com/AuthorChelleCordero and follow her on Twitter at https://twitter.com/ChelleCordero. You can email Chelle at ChelleCordero(at)gmail.com.
Chelle lives in the northeast with her husband, Mark, and family. They have two adult offspring. Jenni and Marc (& Trish); they also live with three mischievous and spoiled pussycats, one of whom has taken up permanent residence on Chelle's desk. Chelle is a full-time freelance journalist for multiple publications; her articles appear regularly throughout North America and she writes a monthly column on NYS Emergency Medical Services issues as a (former) NYS Emergency Medical Technician (First Responder News).
Vanilla Heart Publishing
Ebooks And Audiobooks and Paperbacks, Oh My!
WEBSITE   https://www.VanillaHeartPublishing.com
FACEBOOK #TEAMVHP
TWITTER @VanillaHeart
Hyphema
by Chelle Cordero

Amazon – http://amzn.to/2gHpr6b
Barnes&Noble – http://bit.ly/1my5o6z
Smashwords – http://bit.ly/2fAIW4s
iTunes – http://apple.co/2fAJ8AC
I sat down to read Hyphema late one night. I thought I would start it, read for about thirty minutes and then go to sleep; instead, I stayed up till almost four in the morning reading it. Immediately immersed in the story, the tension never let up enough for me to even consider putting it down and coming back to it later.
Matt is an air ambulance EMT, a flight medic. He has just moved his son, and his Pakistani wife, to a small town in North Carolina from New York so he could have this job. The job is his dream job and Sudah, his wife, couldn't be more supportive. She is patient, caring and so obviously in love with Matt and their son that it just spills over onto the page. She's the kind of person I'd like to have for a neighbor, but not everyone, even within the circle of Matt's work buddies and their wives feel that way, but Sudah handles the anger and prejudice with grace and softly spoken words meant to soften hearts and break down the walls of misunderstanding…
Matt and Sudah face obstacles that severely test their relationship and their marriage. I do not want to go into anymore of the specifics here, but while Matt and Sudah's relationship plays an important role in the book, the story is much more of an extremely well written thriller and I definitely recommend reading it.    (read the full review)
Hyphema won the
Hyphema: Bleeding in the eye caused by trauma…
Matt Garratti, a paramedic from New York, moves his wife and son to North Carolina to work at his dream job as a flight medic. Pakistani born Sudah, his wife, receives frosty stares and insensitive comments from their new neighbors… Matt wonders if he is pursuing his dream or bringing his family into a nightmare from which they may never wake.
Hyphema by Chelle Cordero