You are currently browsing the category archive for the 'Chelle Cordero' category.
The new girl in town is ashamed of a family scandal until
she finds new lessons in a world of books.
https://amzn.to/2MAwRsb #YA #inspirational
available in Kindle from Amazon
for MORE books by Chelle Cordero:

Pussycat Tales
(an amusing look at a lifetime with cats)
We have always had cats. Just a few months after our marriage nearly 40 years ago, Mark's friend found a stray kitten on the road. The kitten's mom had been struck by a car; the kitten was about 3-weeks old, too young to be without its mama. The friend wanted to keep the tiny orange tabby kitten but his wife was deathly allergic so instead he looked for a good home. That's when he spoke to Mark and that is when Pumpkin joined our family.
I was so excited. I had kitten food and play toys waiting. Mark put Pumps down on the floor and he found the food right away. We had to show him his litter box but he did well even the first time. Then I picked the little orange ball of fur into my lap and completely melted when he put his ear against my tummy and promptly fell asleep. He grew quickly and learned to shadow box with my dad while standing on his haunches (the cat, not my dad).
We were preparing for Passover and brought a 5-lb package of matzo into the kitchen when we got an emergency call and had to run into the city. We were gone for two days and my neighbor looked in on Pumps making sure that he had fresh food and water. When we got back, our kitten was happy to see us… he was also terribly constipated. In our absence Pumpkin had decided to sample a corner of EVERY piece of matzo. The poor thing needed kitty laxatives!
We moved into a ground floor condo with a back door patio; since he was an indoor cat, Pumps enjoyed the openness of the full length patio door view. Soon after a little grey tabby appeared outside on our patio with nose pressed against the sliding glass door. We couldn't open the door without this little guy walking in as if he belonged there. Pumpkin hissed at the grey tabby, the grey cat hissed back. We brought the grey tabby to the shelter and hoped they would find a home, they told us he had 48-hours. The next morning, around 14- hours later, Mark went back to the shelter and adopted a little grey tabby we named Dusty.
After a few more hisses, Dusty and Pumpkin became best friends. They spent several lazy days together basking in the sun of our bedroom windowsill (inside only). The windowsill was just a few feet from the outside ground so if anyone was walking on the lawn, they would pass right by the window (we usually kept our curtains closed). The day a loose Doberman Pincher decided to growl at Dusty as he rested peacefully on the inside sill, he frightened the cat. That was when Pumpkin reared up on his haunches between Dusty and the window screen and let out the loudest shrieking hiss I have ever heard. I kid you not, the Doberman whimpered and ran.
It was chaotic with two balls of fur, one orange and one grey, seemingly flying across the 26-foot long living/dining area. We brought Dusty to the vet for a checkup and were told that the cat was "mildly retarded" and would never grow to full size or full cat mental maturity. Supposedly there was some kind of disproportionate ratio of bone to cartilage???? We were told the cat wouldn't survive if he had to fend for himself outside. So he always remained a bit kittenish which Pumpkin didn't seem to mind, he just took care of him even more.
The outside patio seemed to be our weakness as yet another furry faced critter pressed his nose to the glass. We resisted. Longing eyes looked on as Pumpkin and Dusty played, ate and caused havoc. We still resisted. This longhaired steel grey and white cat slept on our patio and was there to greet us each night as we came home from work. At first we didn't feed him knowing that would be tantamount to an invitation. Eventually we gave in when he meowed at feeding time for our tabby cats. A little boy came to the patio one day and called the cat TJ. When the cat responded to the little boy I was thrilled – he went home that night.
The respite was short lived as the fur ball wound up on our patio again the next morning…
The Many Faces of Chelle Cordero is a single author collection of short stories featuring Introduction, Pussycat Tails, Holiday Happiness, Not Alone, I Swear That Raccoon Just Knocked on the Door, Stormy Weather, A Mother's Love, More Than a Friend, The Meeting, and The Vacation. Something for everyone… humor, drama, passion, suspense, and more! Chelle Cordero's first short story collection gives the reader a glimpse into her writer's mind, with humor, poignancy, love, suspense, and more with these short stories.
PREVIEW INCLUDED IN A TASTE OF CHELLE CORDERO
BUY LINKS
Touch of Love:
Short Story Collection
by Chelle Cordero
An Empty House
No matter how many times I turned the key in the lock the room within was always empty. I kept waiting for the day he would return. I told him that I would wait as long as it took until he came back to me.
I missed my husband, I missed sleeping next to him every night, and I missed seeing him every morning as he dressed for work. Someone else was preparing his meals now, someone else was watching over him as he slept. So many days and weeks had passed as I cried myself to sleep every night… alone.
He left suddenly late one night in December. We had made plans to celebrate the holidays with the family, but our plans fell flat and there were no celebrations. I never expected him to leave our home like that and for me to be left all alone in that house, it seemed so big without him there. It hurt that I had to make arrangements just to see him, I even needed permission, and it had to be convenient for someone else's schedule. Every time I called his phone just to say hello a female voice always answered and I had to ask if she would let me speak to him. My heart was breaking.
Our kids rallied around but they have their own lives, their own families and their own homes to go back to. I couldn't keep depending on them, I wasn't sure what my future held and I couldn't keep them from living their own. I had to force myself to look strong for them, for my husband and most of all for me.
Even works of fiction reflect on the author's life and experiences
and Touch of Love was truly inspired by lots of personal stories.
Buy Links
Also Available through
Indigo, Bucher.de, Angus & Robertson, WHSmith, Thalia,
Tolino, Streetlib, 3M, Baker and Taylor, Follet, Overdrive, Gardners, Chegg, Google Play, and other online retailers
Stormy Weather
The sun felt like it was burning into her skin. Even SPF-25 didn't stand up to the wind burn.
It was just too easy to be lazy and lie there on the towel. The wind was kicking up and she felt grains of sand skitter across her skin every now and then. She wasn't alone, there were a few diehards still on the beach. Running feet kicked up clumps of sand and finally annoyed her enough to sit up and dust herself off.
"Surfers," she mumbled and shook her head. Storms always brought them out. The wind kicked up the surf and the waves swelled. Debbie was compelled to watch two figures riding a huge crest and cringed when she saw one tumble into the crashing foam, his board flying in after him.
Groaning, she finally stood and brushed some of the sand from her arms. Debbie walked to the water's edge and was amazed to realize how much closer it was to the towel she was lying on than when she first picked out a spot. At least she would get her feet wet before she packed up her belongings and trudged back to the hotel.
She was standing in ankle deep water when a wave crashed into her at chest height. She was knocked off balance and wound up sitting in the wet sand as the water threatened to pull her in. The salty water passed her lips and she sputtered and tried to catch her breath.
"You okay?" A bronze god squatted beside her. His hand rested on her back to support her in case she actually collapsed.
Cough, cough. "Yeah," cough, "I'm fine." She paused and cleared her throat. "That wave just surprised me."
He stood and stretched a hand out. "Obviously a tourist." He smiled.
Debbie stood, she deliberately avoided his help. "Is that an insult?"
"No," Adonis' twin laughed. "It was a guess. This is obviously your first hurricane and since we have them every year I figured that you're either a brand new resident or, most probably, just visiting for a few days. So which is it?"
She didn't look up at him. "I'm here on vacation."
"Hah! I was right."
Debbie looked out at the horizon. "How bad does it get?" It almost looked like sets of back curtains were billowing from the clouds. She walked back to her towel and straw bag and just assumed he'd follow her.
"Oh baby," he paused while she bent to pick her things up. "It hasn't even started. The storm is still pretty far off. Besides it's only a category two."
She looked back as she bent over and was annoyed to catch his leer. "Are you enjoying the show?" She sounded cynical.
Patches of red tinged his cheeks. His embarrassment surprised her.
"Sorry." He looked back at the water. "I'm Bruce."
She nodded in acknowledgment but didn't bother to return the courtesy. "So how long before this hurricane actually hits?" Turning towards the hotel, she wrapped a clean towel around her waist.
"We've got about twelve or fourteen hours." Bruce fell into step next to her "Where are you from?"
"Philadelphia."
He hoped she'd be a little more forthcoming. She wasn't. They kept walking. "So why are you in Miami Beach?"
She stopped. "I'm on vacation." Debbie turned to look at him. She stood with a hand on a hip. "Thank you for your help in the water. But I'm not the kind of woman that picks up a vacation fling in case that's why you're following me."
"Don't worry. I'm not interested in being a tourist attraction."
Buy Links
Smashwords (multiple e-book formats)
AudioBook narrated by Wendy Tremont King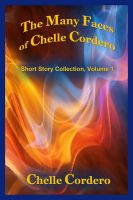 The Many Faces of Chelle Cordero
More than a Friend


a short story by
Chelle Cordero & Barbara Cordero Du-Bois
"Are you doing okay?"
Janis couldn't answer through the lump in her throat. She looked up at Jerry and nodded hesitantly.
He stifled a frustrated sigh, frustrated because he wanted to do something, anything, to take her pain away. It tore him open inside to see her tears and that angered him. Jerry felt guilty for the jealousy he felt knowing that she was crying over her loss of another man.
Janis stood in the center of her living room and remembered the last time she had been in that room with her husband… and wishing she could forget. There would never be another chance to make things right.
###########
Jerry helped take her jacket off and he laid it carefully over the back of a chair.
"I… I think I need to be alone." She noticed the hurt look that he tried to hide. "Jerry I'm sorry. Thank you so much for being here for me. I would never have survived the last few days without you. I haven't been fair to you."
"No, I-"
"Ssh." She put her fingertips on his lips. "You lost him, too. He was your cousin." She continued speaking through her tears. "And all you've done is take care of me since it happened."
#####################
Their Captain called them in from patrol to let Janis know that her husband had died in the line of duty. Billy was working crowd control at a fire scene in the south Bronx when a brick was tossed from a neighboring rooftop. The coroner said he died instantly.
Jerry had been the one to catch her as her knees buckled. He'd barely left her side since.
She caught her breath. "I just need some time."
"Maybe you should ask for some more time off, you know, before you come back to the job." Jerry searched her face. He was so concerned for her.
"I'll be fine." She forced strength into her words.
"Just call if you need, anything. Alright?"
She nodded and stood on tiptoe to kiss him on the cheek.

The Many Faces of Chelle Cordero is a single author collection of short stories featuring Introduction, Pussycat Tails, Holiday Happiness, Not Alone, I Swear That Raccoon Just Knocked on the Door, Stormy Weather, A Mother's Love, More Than a Friend, The Meeting, and The Vacation.
Something for everyone… humor, drama, passion, suspense, and more! Chelle Cordero's first short story collection gives the reader a glimpse into her writer's mind, with humor, poignancy, love, suspense, and more with these nine short stories.
Buy Links
Smashwords (multiple e-book formats)
AudioBook narrated by Wendy Tremont King
"I better get back to my room. Have you gotten any rest at all? We have to go to the courtroom tomorrow."
"I know. Thank you for paying my bail, I know your secretary wasn't happy" She glanced over at the dinner tray. "Oh and thank you for my meal too, I'm sure that was your idea."
"You need to take care of yourself. Caitlyn, I can afford to lose the bail money, maybe you should take off…"
She stood. "No! I haven't done anything wrong."
He knew in his gut she was telling the truth, but the evidence said otherwise. "The police have enough proof against you. I just don't want you going to jail."
She wrapped her arms around herself and her voice shook. "I'm innocent."
Brandon had to take her in his arms at that point. He hated to see her looking so vulnerable. "I believe you, I really do." He held her close against him and thought how well she fit.
"But why would anyone say that I stole? They don't even believe I'm who I say I am."
"I don't know sweetheart."
She looked up at him when he used the endearment and he could no longer resist the urge to kiss her.
Caitlyn's lips parted under his and he felt the tips of their tongues touch and tease. He held her tighter and he was afraid he'd crush her if he weren't careful. She pressed herself up against him.
When it became obvious, physically obvious, that Brandon really wanted more, he broke the kiss. He was determined to keep himself controlled but he admitted that it wasn't easy so long as she was in his arms.
He fought with himself to let her go. It took a moment for him to catch his breath. "I'm sorry Caitlyn."
She gently brushed her fingertips over his lips. "Don't be."
He grabbed her hand. Her touch had nearly sent him careening out of control. He kissed her fingers carefully. "I have to go back to my room now."
Brandon walked towards her door. He avoided facing her. "I need you to think about running away. I'll give you whatever money you need…"
"I'm not leaving."
"Caitlyn…"
"No Brandon. I'm innocent. If I run I will look guilty."
He finally turned to look at her.
"I'm just going to take a quick shower and then get into bed. Tomorrow will be better. They are going to find out that all those papers are wrong."
"I hope so." He meant it. "Good night." He started to lean in for a kiss and then stopped himself. She saw him stop and smiled slightly.
"I will see you tomorrow."
"Yeah." He nodded at her and then he left.
Book Club Discussion Packet (free)
Buy Links
Ben sat quietly and watched her. Sam tried to go back to reading.
"So what happened to you Sam? I really thought we had the same values and the same dreams. When did money become so important to you?"
She didn't want to have to defend herself to him. It would be too easy to be swept up in a lie. Looking away from him, afraid that he could read her pain, she barely whispered. "What makes you think it wasn't important all along?"
"I thought I knew you better than anybody else. Just like I thought you knew me better. You were the only person I ever let get close to me."
Sam had already been in the foster home when Ben came to live there. Her parents had died in a car accident. She had been rescued, orphaned, from the wreckage. There was no family to replace the loving parents she remembered. She had been the only child of two only children. There was an ailing grandmother halfway across the country but no one else. Her grandmother sent what money she could for the few years she lived but she couldn't take care of a child. Samantha had just started kindergarten when her world was destroyed.
It was a little more than a year later when Ben, already eight, the same age as Philip, was taken away from his drug addict mother. She had tried to sell him for drug money when she came up short but he had kicked the pedophile she was bargaining with and ran away. It angered her and she sent him into the streets to fend for himself. He was scared, homeless and hungry for almost two days when Baltimore cops picked him up and child services got involved. Ben was brought to the foster home; there were six other kids including Sam and two more birth kids belonging to the couple. It was a relief not to have to hide in the closet while his mother turned tricks to get drug money. But the child in him still felt resentment that his mother had tossed him away like garbage. And the child in him was terrified that he would lose the newfound comfort his foster family provided him with. He couldn't relax, he couldn't trust. Sam was the only one who could get through to him. She was the only one who made him feel safe.
He had come to the foster home early in the fall, just in time to start the school year. He was lacking in education because his mother never made sure he got to school each day and he was embarrassed. Even though Sam was younger than him, she helped him study and eventually catch up to his grade level. Then, when the excitement of Halloween drew near, he was terrified when the other kids talked of donning costumes and going door-to-door for candy. He refused to go, he was afraid he would have to do more than just ring doorbells. But when the other kids came home happy and laughing and with sacks filled with candy, he felt left out. Sam dumped her bag of candy in front of him and said it was too much for just her, he had to help her and eat some of it.
They were inseparable as they grew up together. He realized in his teen years that he was falling in love with her but that kind of a relationship would have been just too weird. So it wasn't until after his eighteenth birthday when he was living on his own that he even let her know how he felt. And it wasn't until she was eighteen and living out of the foster home that he finally asked her out on a date. It was always just the two of them. At least that's what Ben had thought.
She still couldn't look at him. "I had just gotten out in the world and I made choices."
"But why? You told me you loved me. You said you needed me. We were working towards a future…"
A tear rolled down her cheek. She remembered the things they had promised each other and it was sheer torture to hear him reminding her. "What kind of future did we have Ben? I was working selling donuts in a bakery and you were hoping for something better than a sales job at the hardware store. We didn't have two nickels to rub together." She never would have had the money she needed to make things right again.
"So it was the money?" Ben sat at the edge of his chair. "And you couldn't even wait to tell me yourself? You just left."
It was another car accident that had changed her world… again. Sam had little more than a broken arm and a minor concussion. Ben was in a coma and had a severe spinal injury. He almost died. There were so many complications. She couldn't look at him. "I did what I had to do."
"Are you that much of a coward?" She couldn't answer him "And he was almost thirty years older than you. Was his money so attractive that you didn't mind being with a man who was old enough to be your father?"
She looked up at him then. "Julian was… good to me."
"He bought you." Just like all those johns who had bought his mother. His voice was edged with disappointment and pain. "Sam, you sold yourself. Did you enjoy letting him put his hands all over you? Was it worth it? I really thought you were different from my mother."
Sam opened her mouth to speak but decided to remain quiet. She refused to debate this with him any more. Putting the closed book back on the end table, she stood and threw the blanket onto the chair behind her. She couldn't let him do this to her. She couldn't let him past all those barricades she had built around her heart so long ago.
"I have contracted with your agency for your services. I think that is the only relationship you and I need to have…" She started to walk towards the door. She turned back to him. "Breakfast is at seven, Philip needs to be at school by eight-thirty. Please manage to find it in your talents to be civil with me in front of my son. He seems to like you and I want him to feel safe. But Ben, I won't hesitate to have you replaced. Remember that." She left the room without looking back.
Buy Links
& get a