You are currently browsing the tag archive for the 'humor' tag.
from the short story 
Not Alone
I ignored the changing numbers on the alarm clock as long as I could. I still refused to believe that anything that had happened over the past few days was real. It was all a nightmare, that's all.
As my toes sought the warmth of my slippers, the tears began to fall again. No matter how many times I tried to deny it, my best friend was buried yesterday. They wouldn't let Jordan come to the cemetery; every-one blamed him. Even me.
For the two days that Jordan had been hospitalized, they kept him under a suicide watch. That angered him. Not because he wanted to commit suicide, but because it meant that people thought he would want to take "the coward's way out" as he put it and avoid facing what had happened. He said it wasn't his fault, but he still blamed himself.
I left the party that night early, too early to know everything that had transpired. Kimmie's boyfriend dumped her, he left her at the party while he went home with another girl. She was upset and she drank more than she should have. Actually, she shouldn't have been drinking at all; most of the folks at the party were under the legal drinking age – but that's another issue altogether.
Eventually Kimmie wanted to go home and, as it was explained to me, she had trouble even holding onto the keys from her handbag. So Jordan offered to drive her. He drank a beer early in the evening; he was one of the few who could legally, and then he hadn't had anything else. That was hours earlier. The cops even said that his blood alcohol level was well below the legal limits. Jordan was just trying to be a nice guy; besides, he had once had a thing for Kimmie.
I visited Jordan in his hospital room right after I heard about the accident. I didn't even know that Kimmie was dead yet. Jordan was devastated. He didn't need to have his friend's condition confirmed; he knew…
stories included
Pussycat Tales
You never really own a cat, but they do rule the household.
Holiday Happiness
Flashy gifts can come with hefty price-tags, but it's the memories that are priceless.
Not Alone
Sometimes forgiveness seems impossible, but then so is turning your back on a friend.
I Swear That Raccoon Just Knocked on the Door
Take one city girl and send her camping in the woods for a tale of humor and triumph.
Stormy Weather
The ominous skies and howling winds of a hurricane lead to an unexpected and warmhearted friendship.
A Mother's Love
When her child is hurt, there isn't anything a mother wouldn't do to make it better.
More Than a Friend
Best friends become lovers and share a lifetime together.
The Meeting
From a random meeting in the south during WW2 to a marriage and love that lasts for an eternity.
The Vacation
An erotic respite was just what she needed, the man who delivered was what she wanted.
buy links
JUST BROWSING THE INTERNET AND FOUND A FEW TERRIFIC QUOTES
"For every minute you remain angry, you give up sixty seconds of peace of mind." ~ Ralph Waldo Emerson
~~~~~~~~
"My mission in life is not merely to survive, but to thrive; and to do so with some passion, some compassion, some humor, and some style." ~ Maya Angelou
~~~~~~~~
"Try not to become a man of success, but rather try to become a man of value." ~ Albert Einstein
~~~~~~~~
"Thousands of candles can be lighted from a single candle, and the life of the candle will not be shortened. Happiness never decreases by being shared." ~ Buddha
~~~~~~~~
"The best way to find yourself is to lose yourself in the service of others." ~ Mahatma Gandhi
JUST BROWSING THE INTERNET AND FOUND A FEW TERRIFIC QUOTES
"Believe what you like, but don't believe everything you read without questioning it." ~ Pauline Baynes
~~~~~~
"Life is 10% what happens to you and 90% how you react to it." ~ Charles R. Swindoll
~~~~~~
"When you try to control everything, you enjoy nothing. Sometimes you just need to relax, breathe, let go and live in the moment." ~ Anonymous
~~~~~~
"One of the most tragic things I know about human nature is that all of us tend to put off living. We are all dreaming of some magical rose garden over the horizon instead of enjoying the roses that are blooming outside our windows today." ~ Dale Carnegie
~~~~~~
"One advantage of talking to yourself is that you know at least somebody's listening." ~ Franklin P. Jones

JUST BROWSING THE INTERNET AND FOUND A FEW TERRIFIC QUOTES TO SHARE
"I have been through some terrible things
in my life, some of which actually
happened." ~ Mark Twain
~~~~~
"If Plan A fails, remember there are 25
more letters." ~ Claire Cook
~~~~~
"Take a leap of faith and begin this
wondrous new year by believing. Believe
in yourself. And believe that there is a
loving Source – a Sower of Dreams – just
waiting to be asked to help you make your
dreams come true." ~ Sarah Ban
Breathnach
~~~~~
"People who think they know everything
are a great annoyance to those of us who
do." ~ Isaac Asimov
~~~~~
"Most folks are as happy as they make up
their minds to be." ~ Abraham Lincoln
Throughout the month of October I posted 15 installments
of my humorous look at life with felines,
Pussy Cat Tales
from
The Many Faces of Chelle Cordero
short story collection
I hope you enjoyed this FREE read!
…oh no, did you miss it?????
Don't worry, you can catch up now ~ just go to
my Facebook page
(& you don't even have to LIKE the page…
although that sure would be appreciated!)
but wait! Mario, Luigi & Tigger want me to make it easier for you.
just click on the numbers below and go directly to each installment:
Okay, did you like it? I hope it made you smile.
BUY LINKS
And if you decide to use the Amazon-exclusive Audible.com 30-day free trial membership it includes:
This audiobook free, plus a bonus audiobook of your choice
 & Sony, Nook, Kindle, Apple, Kobo and more
I hope that you've enjoyed Pussy Cat Tales (just follow the links on this post or scroll down after each post on my FaceBook Author page to click to the next installment) ~
Would you PLEASE post a review of Pussy Cat Tales on any site under The Many Faces of Chelle Cordero, it would really be appreciated…
and don't forget you can get a FREE audio download of NOT ALONE, another story from the Many Faces collection at
http://bit.ly/1QPuvB9
Thank you! 
JUST BROWSING THE INTERNET AND FOUND A FEW TERRIFIC QUOTES TO SHARE
"You know you're in love when you can't fall asleep because reality is finally better than your dreams." ― Dr. Seuss
*****
"Protection of religious freedom means considering the faiths and beliefs of everyone involved." — Mike Quigley
*****
"A national political campaign is better than the best circus ever heard of, with a mass baptism and a couple of hangings thrown in." — H. L. Mencken
*****
"A sense of humor is good for you. Have you ever heard of a laughing hyena with heart burn?" — Bob Hope
*****
"We write to taste life twice, in the moment and in retrospect." ― Anaïs Nin
Starting tomorrow, Sept 2, and through the month, I will be posting my short story Pussy Cat Tales in serialized version on my Facebook page. Come back every other day for another installment.
Pussy Cat Tales (an amusing look at a lifetime with cats) is one of the short stories in The Many Faces of Chelle Cordero.
Enjoy! Visit Author Chelle Cordero​ to follow along.
The Many Faces of Chelle Cordero
Buy Links
Common Bond, Tangled Hearts

Layne Gillette's world is turned upside down when a man she has never met
shows up to lay claim as the father of her 6-year old son.
A Chaunce of Riches

Ben Johnson was hired as a bodyguard for a rich widow and her kid,
but he never expected to be working for the woman who had
abandoned him just when he had needed her the most.
The Many Faces of Chelle Cordero

Chelle Cordero's first short story collection gives the reader a glimpse into her
writer's mind, with humor, poignancy, love, suspense, and more
His Lucky Charm

What happens in Vegas doesn't always stay in Vegas… this time it follows
Brandon and Caitlyn across the country and into
a world of espionage and danger.
Courage of the Heart

COURAGE OF THE HEART shows us that sometimes love is the
only cure for the very deepest of emotional wounds
Bartlett's Rule

Bartlett's Rule shares the story of Lon and Paige's love affair; a
romance filled with hardship, emotion, danger and triumph
Karma Visited

Do you believe in karma? Annie Furman has a gift that allows her,
while she sleeps, to visit people in their time of need
– but who will be there for her when she needs help?
EMS Novels: Final Sin & Hyphema

Final Sin
Deputy Sheriff Commander Jake Carson has his hands full… investigation of a
brutal multiple homicide, a troubled son and a vindictive ex-wife.
Hyphema
Hyphema: Bleeding in the eye caused by trauma… Matt Garratti, a paramedic
from New York, moves his wife and son to North Carolina
yo work at his dream job as a flight medic.
There isn't much better than
getting FREE stuff!
Although it isn't half-bad being
the one giving it away…
Here is what I have for you:
Download Chelle's audio story NOT ALONE
from this short story collection [FREE]
(
narrated by Wendy Tremont King
)
 A fifteen minute short story in Audio
~~~~~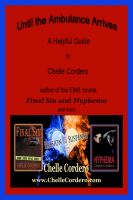 Until the Ambulance Arrives – A helpful guide by Chelle Cordero, Emergency Medical Technician, CPR and First Aid Instructor, and long-time volunteer with her local ambulance corps. Chelle is a multipublished author, journalist and writer for multiple publications, and has included teaser chapters of her two EMS Novels – Final Sin and Hyphema – in this free e-book.
~~~~~
Consistently rated in the Top 100 for Amazon Kindle Blogs, Chelle Cordero""s Living, Breathing, Writing is now available in EBook form and here is a generous sample! Check out the Table of Contents to see all the chapters and Bonus content!
~~~~~
Read
Chelle Cordero's 2013 Sampler
for a generous taste of
all her suspense novels, her short story collection, and her
books on writing and being a writer. More than 230 pages.
~~~~~
& FREE BOOK DISCUSSION PACKETS:
 Karma Visited (pdf file)
Bartlett's Rule (pdf file)
His Lucky Charm (pdf file)
Final Sin (pdf file)
Hyphema (pdf file) 
Hostage Heart  (pdf file)
Courage of the Heart (pdf file)
Common Bond, Tangled Hearts (pdf file)
Within the Law (pdf file)
A Chaunce of Riches (pdf file)
Celebrating the Release of
the Audio Edition of Chelle Cordero's
The Many Faces of Chelle Cordero,
Chelle and Vanilla Heart Publishing
are offering a
FREE PREVIEW of her short story
Not Alone, in Audio.
Limited time offer – grab yours today! 
Download the info sheet on Many Faces of Chelle Cordero
Many Faces PREVIEW for BB w links (.pdf)
complete with buy links & descriptions of all of
Chelle Cordero's books