You are currently browsing the tag archive for the 'Many Faces of Chelle Cordero' tag.
Stormy Weather
The sun felt like it was burning into her skin. Even SPF-25 didn't stand up to the wind burn.
It was just too easy to be lazy and lie there on the towel. The wind was kicking up and she felt grains of sand skitter across her skin every now and then. She wasn't alone, there were a few diehards still on the beach. Running feet kicked up clumps of sand and finally annoyed her enough to sit up and dust herself off.
"Surfers," she mumbled and shook her head. Storms always brought them out. The wind kicked up the surf and the waves swelled. Debbie was compelled to watch two figures riding a huge crest and cringed when she saw one tumble into the crashing foam, his board flying in after him.
Groaning, she finally stood and brushed some of the sand from her arms. Debbie walked to the water's edge and was amazed to realize how much closer it was to the towel she was lying on than when she first picked out a spot. At least she would get her feet wet before she packed up her belongings and trudged back to the hotel.
She was standing in ankle deep water when a wave crashed into her at chest height. She was knocked off balance and wound up sitting in the wet sand as the water threatened to pull her in. The salty water passed her lips and she sputtered and tried to catch her breath.
"You okay?" A bronze god squatted beside her. His hand rested on her back to support her in case she actually collapsed.
Cough, cough. "Yeah," cough, "I'm fine." She paused and cleared her throat. "That wave just surprised me."
He stood and stretched a hand out. "Obviously a tourist." He smiled.
Debbie stood, she deliberately avoided his help. "Is that an insult?"
"No," Adonis' twin laughed. "It was a guess. This is obviously your first hurricane and since we have them every year I figured that you're either a brand new resident or, most probably, just visiting for a few days. So which is it?"
She didn't look up at him. "I'm here on vacation."
"Hah! I was right."
Debbie looked out at the horizon. "How bad does it get?" It almost looked like sets of back curtains were billowing from the clouds. She walked back to her towel and straw bag and just assumed he'd follow her.
"Oh baby," he paused while she bent to pick her things up. "It hasn't even started. The storm is still pretty far off. Besides it's only a category two."
She looked back as she bent over and was annoyed to catch his leer. "Are you enjoying the show?" She sounded cynical.
Patches of red tinged his cheeks. His embarrassment surprised her.
"Sorry." He looked back at the water. "I'm Bruce."
She nodded in acknowledgment but didn't bother to return the courtesy. "So how long before this hurricane actually hits?" Turning towards the hotel, she wrapped a clean towel around her waist.
"We've got about twelve or fourteen hours." Bruce fell into step next to her "Where are you from?"
"Philadelphia."
He hoped she'd be a little more forthcoming. She wasn't. They kept walking. "So why are you in Miami Beach?"
She stopped. "I'm on vacation." Debbie turned to look at him. She stood with a hand on a hip. "Thank you for your help in the water. But I'm not the kind of woman that picks up a vacation fling in case that's why you're following me."
"Don't worry. I'm not interested in being a tourist attraction."
Buy Links
Smashwords (multiple e-book formats)
AudioBook narrated by Wendy Tremont King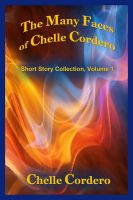 The Many Faces of Chelle Cordero
More than a Friend


a short story by
Chelle Cordero & Barbara Cordero Du-Bois
"Are you doing okay?"
Janis couldn't answer through the lump in her throat. She looked up at Jerry and nodded hesitantly.
He stifled a frustrated sigh, frustrated because he wanted to do something, anything, to take her pain away. It tore him open inside to see her tears and that angered him. Jerry felt guilty for the jealousy he felt knowing that she was crying over her loss of another man.
Janis stood in the center of her living room and remembered the last time she had been in that room with her husband… and wishing she could forget. There would never be another chance to make things right.
###########
Jerry helped take her jacket off and he laid it carefully over the back of a chair.
"I… I think I need to be alone." She noticed the hurt look that he tried to hide. "Jerry I'm sorry. Thank you so much for being here for me. I would never have survived the last few days without you. I haven't been fair to you."
"No, I-"
"Ssh." She put her fingertips on his lips. "You lost him, too. He was your cousin." She continued speaking through her tears. "And all you've done is take care of me since it happened."
#####################
Their Captain called them in from patrol to let Janis know that her husband had died in the line of duty. Billy was working crowd control at a fire scene in the south Bronx when a brick was tossed from a neighboring rooftop. The coroner said he died instantly.
Jerry had been the one to catch her as her knees buckled. He'd barely left her side since.
She caught her breath. "I just need some time."
"Maybe you should ask for some more time off, you know, before you come back to the job." Jerry searched her face. He was so concerned for her.
"I'll be fine." She forced strength into her words.
"Just call if you need, anything. Alright?"
She nodded and stood on tiptoe to kiss him on the cheek.

The Many Faces of Chelle Cordero is a single author collection of short stories featuring Introduction, Pussycat Tails, Holiday Happiness, Not Alone, I Swear That Raccoon Just Knocked on the Door, Stormy Weather, A Mother's Love, More Than a Friend, The Meeting, and The Vacation.
Something for everyone… humor, drama, passion, suspense, and more! Chelle Cordero's first short story collection gives the reader a glimpse into her writer's mind, with humor, poignancy, love, suspense, and more with these nine short stories.
Buy Links
Smashwords (multiple e-book formats)
AudioBook narrated by Wendy Tremont King
Today was World Cat Day & I am required to pay homage to my adorable and mischievous crew of felines.
What can I say? I fed them, petted them, and didn't send them out to work in the cold, hard world… actually they are indoor cats and seem content with that.
So what I will do is pay tribute to them by building on their 15 + 15 + 15 minutes of fame.
This story appeared in
The Many Faces of Chelle Cordero, Short Story Collection
Pussycat Tales (an amusing look at a lifetime with cats)
          We have always had cats. Just a few months after our marriage nearly 40 years ago, Mark's friend found a stray kitten on the road. The kitten's mom had been struck by a car; the kitten was about 3-weeks old, too young to be without its mama. The friend wanted to keep the tiny orange tabby kitten but his wife was deathly allergic so instead he looked for a good home. That's when he spoke to Mark and that is when Pumpkin joined our family. (read more in the book)
(Laugh with me as I relate stories of
pussycats past and present)
~ ~ ~ ~ ~
My  most recent release (available for pre-sale orders until 9/15) is Karma Visited and is my first work that prominently features a cat.
Tigger, aided by his brothers Mario and Luigi, recently interviewed the hero's cat, Mauszer. You can read the interview here in Ssh, Kitty Power Rules!
~ ~ ~ ~ ~
Finally Tigger was interviewed by Mayra Calvani in Jan. 2010 in An Interview With Tigger, proud owner of Chelle Cordero
~ ~ ~ ~ ~
There is another pussycat who is important to me, his name is Butters and he is my "grand-kitty".  Butters lives with my daughter and her hubby and starred in a YouTube video
~ ~ ~ ~ ~
Happy World Cat Day & lots of petting to all.
Hope you've had a purr-fect day.