You are currently browsing the tag archive for the 'dream' tag.
JUST BROWSING THE INTERNET AND FOUND A FEW  TERRIFIC QUOTES
"The greatness of a man is not in how much wealth he acquires, but in his integrity and his ability to affect those around him positively". ~ Bob Marley
~~~~~
"There are two mistakes one can make along the road to truth… not going all the way, and not starting." ~ Buddha
~~~~~
"When it's darkest, men see the stars." ~ Ralph Waldo Emerson
~~~~~
"Forgiveness … is the finishing of old business that allows us to experience the present, free of contamination from the past." ~ Joan Borysenko
~~~~~
"You are never too old to set another goal or to dream a new dream."
~ C. S. Lewis
JUST BROWSING THE INTERNET AND FOUND A FEW TERRIFIC QUOTES
"Never be tired of a dream, if not fulfilled. Fear of failure should not deter you from your path of self belief. Your belief and determination will get you to your destination and make the dream come true." ~ Anil Sinha
~~~~~
"Man can live about forty days without food, about three days without water, about eight minutes without air, but only for one second without hope."
~ Charles Darwin
~~~~~
"If there are things you don't like in the world you grew up in, make your own life different." ~ Dave Thomas
~~~~~
"Loyalty cannot be blueprinted. It cannot be produced on an assembly line. In fact, it cannot be manufactured at all, for its origin is the human heart-the center of self-respect and human dignity. It is a force which leaps into being only when conditions are exactly right for it-and it is a force very sensitive to betrayal."
~ Maurice R. Franks
~~~~~
"One of the most beautiful qualities of true friendship is to understand and to be understood." ~ Lucius Annaeus Seneca
JUST BROWSING THE INTERNET AND FOUND A FEW TERRIFIC QUOTES
"But the important thing about learning to wait, I feel sure, is to know what you are waiting for." ~ Anna Neagle
~~~~~
"Our willingness to wait reveals the value we place on what we're waiting for." ~ Charles Stanley
~~~~~
"If you aren't good at loving yourself, you will have a difficult time loving anyone, since you'll resent the time and energy you give another person that you aren't even giving to yourself." ~ Barbara De Angelis
~~~~~
"Every great dream begins with a dreamer. Always remember, you have within you the strength, the patience, and the passion to reach for the stars to change the world." ~ Harriet Tubman
~~~~~
"I've been very lucky to have achieved a lot of the things that I dreamt of achieving as a young man. But, at the end of the day – and I truly believe this – it is not about achieving great wealth or success. Because they don't bring happiness, ultimately." ~ Leonardo DiCaprio
After Karma Visited…
Annie's Karma by Chelle Cordero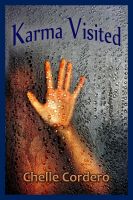 Do You Believe in Karma?
Annie Furman has a gift that allows her, while she sleeps, to visit people in their time of need – but who will be there for her when she needs help?
Undersheriff Dave Turner is investigating a series of home invasions and homicides. He has no idea that solving this case will lead him to the woman of his dreams.
Excerpt from Annie's Karma:
"
We just got into town. I haven't had a chance to make any connections yet. I'm trying to get a job and I have to open a bank account. I just enrolled my son in the school." Donna took the handwritten receipt from Annie's hand. "Thank you. This apartment will be perfect. I'm grateful that you're renting it to us."
Donna explained to Annie that she and her four-year-old son were slowly meandering their way across the country, but she realized that the child needed a stable place to live instead of being on the move constantly. She was driving through and liked the small town atmosphere she noticed in Catawai. Donna told Annie that she was a recent widow and that her husband died of cancer, it was already very advanced when they discovered it. Neither she nor her late husband had any family. She wanted to move away and get a fresh start where there weren't so many memories. She wanted someplace where her little boy could grow up without the constant reminders of a dad who was no longer there for him.
"
There wasn't much that Gene left us, but he had taken a small term life insurance policy, so at least I have cash in my pocket to pay our way for a bit without worrying too much." Donna shrugged. "Hopefully I'll get that job I interviewed for…"
Annie listened sympathetically and tried not to ask too many questions, but she noticed a look in Donna's eyes that she thought she could understand even without knowing why. She couldn't say for sure, but she knew that Donna wasn't being entirely truthful. Annie suddenly realized why she felt connected with the woman. She wondered if she had ever had that same look during the years she needed to escape from Scott. Annie decided not to question Donna's story, at least not for the time being. Maybe she could even find some way to help the other woman.
Buy Links
JUST BROWSING THE INTERNET AND FOUND A FEW TERRIFIC QUOTES TO SHARE
"What is a fear of living? It's being preeminently afraid of dying. It is not doing what you came here to do, out of timidity and spinelessness. The antidote is to take full responsibility for yourself – for the time you take up and the space you occupy. If you don't know what you're here to do, then just do some good." ~ Maya Angelou
~~~~~
"There is a child in every one of us who is still a trick-or-treater looking for a brightly-lit front porch." ~ Robert Brault
~~~~~
"Anyone who has a continuous smile on his face conceals a toughness that is almost frightening." ~ Greta Garbo
~~~~~
"I have a sweet tooth for reading, so books migrate to my zip code en mass." ~ Dawn Olivieri
~~~~~
"What lies behind us and what lies before us are tiny matters compared to what lies within us." ~ Ralph Waldo Emerson