You are currently browsing the tag archive for the 'mystery' tag.
FREE Download 
Ipema di Chelle Cordero
traduzione in italiano di Elisabetta Colona
Ipema: sanguinamento dell'occhio causato da un trauma… Matt Garratti, un paramedico di New York, si trasferisce con sua moglie e suo figlio nel Nord Carolina per fare il lavoro dei suoi sogni come medico di volo. Pakistana di origine, Sudah, sua moglie, riceve sguardi taglienti e commenti brutali dai nuovi vicini… Matt si chiede se stia inseguendo i suoi sogni o portando la sua famiglia in un incubo da cui non potrebbero più svegliarsi.
Il libro sarà presto disponibile!
(coming soon)
Reviews of Hyphema
"In Hyphema, author Chelle Cordero meets headlong a number of real problems facing her characters. She doesn't sugar-coat cultural differences and prejudice. The series of incidents and the deaths faced by Matt and Sudah cause them to face these problems and gives the love story a depth well-done." —Janet Lane Walters
"Ms. Cordero tackles such amazingly current topics-hate, prejudice, fear of the different, with such enjoyable, suspenseful, and well-researched background, that this reader will be following her closely to see what she writes next. Each medical scene resonates with reality, and each chapter flows into the next with a flutter in the pit of the stomach for what is coming, as well as what has been." —Brian Davidson
Hyphema is also available in Spanish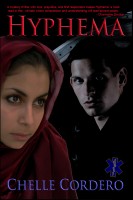 Prologue
Matt was looking down over the dark water as they were being buffeted by the winds.
"It's always choppy over here," shouted Tony, the pilot. "You get used to it after a while."
They had just finished their pre-flight check when they got banged out on an emergency transport job. The patient, a diabetic male in his forties, was in distress after being pinned under a car in a freakish accident. The bulk of the damage was centered on his back after the car fell off of its jack. His urine was filled with blood and he needed immediate transport to a level one trauma center.
North Carolina's Outer Banks had a reputation for beauty and serenity. Several old fishing villages dotted the barrier islands along with spacious homes and bed and breakfasts. Matt was thinking of taking Sudah and Aden there for a weekend jaunt soon.
Luckily the area was served by a state of the art hospital center so any injured or sick could be treated there without the hour-and-a-half commute a car would need. With a serious trauma, patients could at least be stabilized, and air transportation used to one of the trauma centers inland.
"Have you ever been out here before Matt?" Frank was a thirty three year old critical care flight nurse who had grown up in the area.
"Nope. First time." Matt had not ventured far from New York where he grew up until he decided to move his family to North Carolina after a job offer from NC Air EMS.
The LZ was lit up on the grounds of the hospital and Tony was preparing to put the chopper down. Matt and Frank remained quiet. All three were communicating through the headsets in their helmets; the sound of the rotor above them would have made it too noisy to talk otherwise.
It was still his first week in the new job and only his second living in the area. It amazed him that Sudah was so supportive even though he practically yanked her and the baby from New York. She stood by him, never questioning his decision and saying goodbye to their friends without even a tear. He was going to do everything he could to make sure this worked.
Matt felt the EC 145 bank hard to the right as Tony brought the bird around. His harness held him securely in the seat. He smiled as he watched the landscape grow bigger and realized that he was finally in his dream job.
Buy Links
It was 1985 and the little town I loved in was horrified at the murder that captured newspaper headlines. The site of the murder was just a few minutes from my home.
Using my EMT skills, I used to work in the infirmary of a local summer day camp in those years. Every day, as I drove to work, I went past the driveway leading to the smokehouse where the victim's body had been burned beyond recognition. The police caught the murderer and the trial replaced the actual murder headlines.
But each time I passed the mailbox at the end of the crime scene driveway I was filled with an unease, there were nights when the horror at what had occurred there just wouldn't leave my mind and I would lay awake staring at the ceiling.
When I wrote Final Sin I used a mental image of the crime scene that had haunted my town and I developed a different crime, a crime that included a body that had been set on fire. But that is where the similarity ended…
… Deputy Sheriff Commander Jake Carson has his hands full with the investigation of a brutal multiple homicide, a troubled son and a vindictive ex-wife when he meets young, free-spirited paramedic Julie Jennings. He is immediately drawn to her and finds himself unexpectedly falling in love. Julie finds herself just as drawn to him. When Julie becomes the subject of an obsession, it puts both of their lives in extreme danger… Romance…danger…adventure…suspense…another great Chelle Cordero novel sure to grab readers from many genre!
Final Sin was an Honorable Mention in the
Fiction Category of the 2010 NY Book Festival 
Buy Links
Final Sin is available in Print, E-book & Audio
Now Available in Spanish and German translations!
Buy Links
Comment on my blog and you're entered to win
an e-book copy of Karma Visited
 http://www.longandshortreviews.com/guest-blogs/
lasr-anniversary-chelle-cordero-guest-blog-and-giveaway/
And don't miss entering the RAFFLECOPTER
for terrific prizes like:
$100, $25 or $10 Gift Certificates to Amazon or Barnes & Noble
and LOTS more…
Common Bond, Tangled Hearts

Layne Gillette's world is turned upside down when a man she has never met
shows up to lay claim as the father of her 6-year old son.
A Chaunce of Riches

Ben Johnson was hired as a bodyguard for a rich widow and her kid,
but he never expected to be working for the woman who had
abandoned him just when he had needed her the most.
The Many Faces of Chelle Cordero

Chelle Cordero's first short story collection gives the reader a glimpse into her
writer's mind, with humor, poignancy, love, suspense, and more
His Lucky Charm

What happens in Vegas doesn't always stay in Vegas… this time it follows
Brandon and Caitlyn across the country and into
a world of espionage and danger.
Courage of the Heart

COURAGE OF THE HEART shows us that sometimes love is the
only cure for the very deepest of emotional wounds
Bartlett's Rule

Bartlett's Rule shares the story of Lon and Paige's love affair; a
romance filled with hardship, emotion, danger and triumph
Karma Visited

Do you believe in karma? Annie Furman has a gift that allows her,
while she sleeps, to visit people in their time of need
– but who will be there for her when she needs help?
EMS Novels: Final Sin & Hyphema

Final Sin
Deputy Sheriff Commander Jake Carson has his hands full… investigation of a
brutal multiple homicide, a troubled son and a vindictive ex-wife.
Hyphema
Hyphema: Bleeding in the eye caused by trauma… Matt Garratti, a paramedic
from New York, moves his wife and son to North Carolina
yo work at his dream job as a flight medic.
…and I'd love to hear what you think
Check out my novel/book listings at
https://chellecordero.com/novels-by-chelle-cordero/
Click on the titles that interest you and see more info and buy links
Morgen Bailey asked me a lot of interesting questions on her blog – come on by and let me know what you think!
…and learn a little bit about my interesting family history.