You are currently browsing the tag archive for the 'discussion' tag.
It was 1985 and the little town I loved in was horrified at the murder that captured newspaper headlines. The site of the murder was just a few minutes from my home.
Using my EMT skills, I used to work in the infirmary of a local summer day camp in those years. Every day, as I drove to work, I went past the driveway leading to the smokehouse where the victim's body had been burned beyond recognition. The police caught the murderer and the trial replaced the actual murder headlines.
But each time I passed the mailbox at the end of the crime scene driveway I was filled with an unease, there were nights when the horror at what had occurred there just wouldn't leave my mind and I would lay awake staring at the ceiling.
When I wrote Final Sin I used a mental image of the crime scene that had haunted my town and I developed a different crime, a crime that included a body that had been set on fire. But that is where the similarity ended…
… Deputy Sheriff Commander Jake Carson has his hands full with the investigation of a brutal multiple homicide, a troubled son and a vindictive ex-wife when he meets young, free-spirited paramedic Julie Jennings. He is immediately drawn to her and finds himself unexpectedly falling in love. Julie finds herself just as drawn to him. When Julie becomes the subject of an obsession, it puts both of their lives in extreme danger… Romance…danger…adventure…suspense…another great Chelle Cordero novel sure to grab readers from many genre!
Final Sin was an Honorable Mention in the
Fiction Category of the 2010 NY Book Festival 
Buy Links
Final Sin is available in Print, E-book & Audio
Now Available in Spanish and German translations!
     Great book, really good story
                               posted by Anonymous
This is a story of a woman struggling with the aftereffects of rape while she falls in love. The man she loves becomes a huge support for her as he has to learn to adjust as well. Well written, very understanding. This definitely is a good book for a discussion group.
Available in Print, E-book and Audio

Bartlett's Rule was named one of
Carolyn Howard Johnson's Top Ten Reads for 2009
Bartlett's Rule shares the story of Lon and Paige's love affair; a romance filled with hardship, emotion, danger and triumph. Falling in love was never the challenge; being there for each other, knowing just what to say and making it work is the real test. Paige and Lon are real; they are human, they cry and they laugh. Paige has to learn to trust. Lon has to learn to be patient.
Book Club Packet includes cover art, author photo and bio, discussion starters and more information, plus full color printable bookmarks, and more…
There isn't much better than
getting FREE stuff!
Although it isn't half-bad being
the one giving it away…
Here is what I have for you:
Download Chelle's audio story NOT ALONE
from this short story collection [FREE]
(
narrated by Wendy Tremont King
)
 A fifteen minute short story in Audio
~~~~~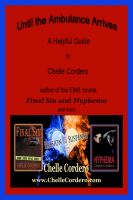 Until the Ambulance Arrives – A helpful guide by Chelle Cordero, Emergency Medical Technician, CPR and First Aid Instructor, and long-time volunteer with her local ambulance corps. Chelle is a multipublished author, journalist and writer for multiple publications, and has included teaser chapters of her two EMS Novels – Final Sin and Hyphema – in this free e-book.
~~~~~
Consistently rated in the Top 100 for Amazon Kindle Blogs, Chelle Cordero""s Living, Breathing, Writing is now available in EBook form and here is a generous sample! Check out the Table of Contents to see all the chapters and Bonus content!
~~~~~
Read
Chelle Cordero's 2013 Sampler
for a generous taste of
all her suspense novels, her short story collection, and her
books on writing and being a writer. More than 230 pages.
~~~~~
& FREE BOOK DISCUSSION PACKETS:
 Karma Visited (pdf file)
Bartlett's Rule (pdf file)
His Lucky Charm (pdf file)
Final Sin (pdf file)
Hyphema (pdf file) 
Hostage Heart  (pdf file)
Courage of the Heart (pdf file)
Common Bond, Tangled Hearts (pdf file)
Within the Law (pdf file)
A Chaunce of Riches (pdf file)
Can you hear it now? YOU BET!
Bartlett's Rule by Chelle Cordero is now available as an AUDIOBOOK on Audible, iTunes, and on Amazon! Also in All Ebook Formats and Print Editions.
Bartlett's Rule shares the story of Lon and Paige's love affair; a romance filled with hardship, emotion, danger and triumph. Falling in love was never the challenge; being there for each other, knowing just what to say and making it work is the real test. Paige and Lon are real; they are human, they cry and they laugh. Paige has to learn to trust. Lon has to learn to be patient.
Review
A fantastic read — a love story between two seemingly very different kinds of people. Between all the tribulations that get in the way of their romance, they ultimately triumph. The story is so well crafted and the characters evoke lots of emotion from the reader. The plot takes lots of twists and turns and underscores the severity of rape crimes and the lasting damage it inflicts upon its victims.
~~~
Bartlett's Rule audiobook is narrated by Gwendolyn Jensen-Woodard, professional voice actress, owner and producer at Gypsy Audio, residing in the Pacific Northwest. Final Sinwas the first audiobook she produced for Chelle Cordero and Vanilla Heart Publishing, followed by Hostage Heart, and is now at work on Chelle's upcoming paranormal suspense,Karma Visited. Gwendolyn's range, professionalism, and extraordinary high quality production standards are just a few of the reasons we're thrilled to be working with her on these projects.
AUDIO, PRINT, and ALL ELECTRONIC EDITIONS
BUY LINKS
And if you decide to use the Amazon-exclusive Audible.com 30-day free trial membership it includes:
This audiobook free, plus a bonus audiobook of your choice
Exchange any book you don't like with our Great Listen Guarantee
Total flexibility – cancel, pause or upgrade membership easily and whenever you like
The Book Club Discussion packet WITH extras for Courage of the Heart is HERE!
Spice up your book discussions with professionally created discussion starters, resources and lots of great extras including bookmrks for everyone in your group.  And it's available for FREE download from Payloadz.
Courage of the Heart    by Chelle Cordero
Published by Vanilla Heart Publishing ; Fiction.
(multiple e-book formats from Smashwords)
Sometimes love is the only cure for the very deepest of emotional wounds. The story of the two lovers takes a series of unexpected and fast paced turns where lives, sanity and love are put in jeopardy. Their commitment to one another results in a spirit that binds them together and helps them to overcome physical and emotional dangers.
Courage of the Heart is now available in Audible Audio Edition
In Paperback from Amazon     In Kindle
From Barnes & Noble Print and NOOK
There's a NEW Book Discussion packet available for FREE download
"The country's worst hurricane (Katrina) sent more than one million people fleeing from their homes——and in the process affected the largest migration of Americans since the Dust Bowl of the 1930s", according to a National Public Radio (NPR) report."
Hostage Heart
by Chelle Cordero
eBook Price: $4.99 USD. 72450 words.
Published by Vanilla Heart Publishing 
Life was hard after the hurricanes swept through, destroying her parents' home and livelihood… An errand for her boss – a chance encounter with a crew of bank robbers – a kind man who tried to help her … a man who isn't all he seems…no, he is so much more
Chelle is available for in-person appearances or via SKYPE
for book club appearances & discussions
Author Info, Title Detail, Discussion Starters
and Printable Bookmarks – All FREE!
Book Discussion Packets:
Bartlett's Rule (pdf file)
His Lucky Charm (pdf file)
Final Sin (pdf file)
Hyphema (pdf file) 
Hyphema by Chelle Cordero

Hyphema: Bleeding in the eye caused by trauma… Matt Garratti, a paramedic from New York, moves his wife and son to North Carolina to work at his dream job as a flight medic. Pakistani born Sudah, his wife, receives frosty stares and insensitive comments from their new neighbors… Matt wonders if he is pursuing his dream or bringing his family into a nightmare from which they may never wake.

AMAZON Print
B&N
OMNILIT PDF
His Lucky Charm by Chelle Cordero

What happens in Vegas doesn't always stay in Vegas… this time it follows Brandon and Caitlyn across the country and into a world of espionage and danger. The one thing that Brandon knows for sure is that he can't afford to lose his lucky charm, Caitlyn. Will their romance survive a foreign threat to national security, kidnapping, personal tragedy and a murder attempt? (Previously released as Forgotten, 2008)
AMAZON
B&N
OMNILIT PDF
KINDLE
SMASHWORDS MULTIFORMAT

Final Sin by Chelle Cordero

Deputy Sherriff Commander Jake Carson has his hands full… investigation of a brutal multiple homicide, a troubled son and a vindictive ex-wife. He meets young, free-spirited paramedic Julie Jennings. When Julie becomes the subject of an obsession, it puts both of them in danger…
AMAZON
B&N
OMNILIT PDF
KINDLE
SMASHWORDS MULTIFORMAT
Bartlett's Rule by Chelle Cordero
Bartlett's Rule shares the story of Lon and Paige's love affair; a romance filled with hardship, emotion, danger and triumph. Falling in love was never the challenge; being there for each other, knowing just what to say and making it work is the real test. Paige and Lon are real; they are human, they cry and they laugh. Paige has to learn to trust. Lon has to learn to be patient.
AMAZON   B&N   OMNILIT PDF
KINDLE   SMASHWORDS MULTIFORMAT