You are currently browsing the tag archive for the 'Hipema' tag.
FREE Download 
Ipema di Chelle Cordero
traduzione in italiano di Elisabetta Colona
Ipema: sanguinamento dell'occhio causato da un trauma… Matt Garratti, un paramedico di New York, si trasferisce con sua moglie e suo figlio nel Nord Carolina per fare il lavoro dei suoi sogni come medico di volo. Pakistana di origine, Sudah, sua moglie, riceve sguardi taglienti e commenti brutali dai nuovi vicini… Matt si chiede se stia inseguendo i suoi sogni o portando la sua famiglia in un incubo da cui non potrebbero più svegliarsi.
Il libro sarà presto disponibile!
(coming soon)
Reviews of Hyphema
"In Hyphema, author Chelle Cordero meets headlong a number of real problems facing her characters. She doesn't sugar-coat cultural differences and prejudice. The series of incidents and the deaths faced by Matt and Sudah cause them to face these problems and gives the love story a depth well-done." —Janet Lane Walters
"Ms. Cordero tackles such amazingly current topics-hate, prejudice, fear of the different, with such enjoyable, suspenseful, and well-researched background, that this reader will be following her closely to see what she writes next. Each medical scene resonates with reality, and each chapter flows into the next with a flutter in the pit of the stomach for what is coming, as well as what has been." —Brian Davidson
Hyphema is also available in Spanish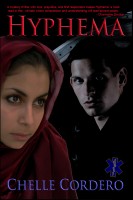 Prologue
Matt was looking down over the dark water as they were being buffeted by the winds.
"It's always choppy over here," shouted Tony, the pilot. "You get used to it after a while."
They had just finished their pre-flight check when they got banged out on an emergency transport job. The patient, a diabetic male in his forties, was in distress after being pinned under a car in a freakish accident. The bulk of the damage was centered on his back after the car fell off of its jack. His urine was filled with blood and he needed immediate transport to a level one trauma center.
North Carolina's Outer Banks had a reputation for beauty and serenity. Several old fishing villages dotted the barrier islands along with spacious homes and bed and breakfasts. Matt was thinking of taking Sudah and Aden there for a weekend jaunt soon.
Luckily the area was served by a state of the art hospital center so any injured or sick could be treated there without the hour-and-a-half commute a car would need. With a serious trauma, patients could at least be stabilized, and air transportation used to one of the trauma centers inland.
"Have you ever been out here before Matt?" Frank was a thirty three year old critical care flight nurse who had grown up in the area.
"Nope. First time." Matt had not ventured far from New York where he grew up until he decided to move his family to North Carolina after a job offer from NC Air EMS.
The LZ was lit up on the grounds of the hospital and Tony was preparing to put the chopper down. Matt and Frank remained quiet. All three were communicating through the headsets in their helmets; the sound of the rotor above them would have made it too noisy to talk otherwise.
It was still his first week in the new job and only his second living in the area. It amazed him that Sudah was so supportive even though he practically yanked her and the baby from New York. She stood by him, never questioning his decision and saying goodbye to their friends without even a tear. He was going to do everything he could to make sure this worked.
Matt felt the EC 145 bank hard to the right as Tony brought the bird around. His harness held him securely in the seat. He smiled as he watched the landscape grow bigger and realized that he was finally in his dream job.
Buy Links
Hipema (Spanish Edition)
by 
Chelle Cordero and narrated by 
Mariana Sanchez Carranza
EMS Novels Bundle Pack
featuring Final Sin and Hyphema
by Chelle Cordero
El Ayudante del Alguacil, Jake Carson, está a manos llenas… la investigación de un homicidio múltiple brutal, un hijo lleno de problemas y una exesposa rencorosa. Conoce a la joven paramédica de espíritu libre Julie Jennings. Cuando Julie se convierte en el objeto de una obsesión, ambos estarán en peligro…
Matt Garratti, paramédico de Nueva York, se muda con su esposa e hijo a Carolina del Norte para tener el trabajo de sus sueños como paramédico de vuelo. Sudah, su esposa pakistaní, recibe miradas frías y comentarios insensibles de sus nuevos vecinos… Matt se pregunta si está siguiendo su sueño o llevando a su familia a una pesadilla de la que tal vez nunca puedan despertar.
¿Crees en el karma? Annie Furman tiene un regalo que le permite, mientras duerme, visitar a la gente cuando lo necesitan, ¿pero quién estará ahí para ella cuando necesite ayuda? El Alguacil adjunto, Dave Tuner, se encuentra investigando una serie de allanamientos de morada y homicidios. No tiene idea de que al resolver estos casos conocerá a la mujer de sus sueños.
¡en español!
Hipema
Por Chelle Cordero
Hifema: Sangrado en el ojo causado por un trauma…
Matt Garratti, paramédico de Nueva York, se muda con su esposa e hijo a Carolina del Norte para tener el trabajo de sus sueños como paramédico de vuelo. Sudah, su esposa pakistaní, recibe miradas frías y comentarios insensibles de sus nuevos vecinos… Matt se pregunta si está siguiendo su sueño o llevando a su familia a una pesadilla de la que tal vez nunca puedan despertar.
REVIEW (English Edition)
A Non-Stop Thriller that Will Leave You Longing for More
I sat down to read Hyphema late one night. I thought I would start it, read for about thirty minutes and then go to sleep; instead, I stayed up till almost four in the morning reading it. Immediately immersed in the story, the tension never let up enough for me to even consider putting it down and coming back to it later.
Matt is an air ambulance EMT, a flight medic. He has just moved his son, and his Pakistani wife, to a small town in North Carolina from New York so he could have this job. The job is his dream job and Sudah, his wife, couldn't be more supportive. She is patient, caring and so obviously in love with Matt and their son that it just spills over onto the page. She's the kind of person I'd like to have for a neighbor, but not everyone, even within the circle of Matt's work buddies and their wives feel that way, but Sudah handles the anger and prejudice with grace and softly spoken words meant to soften hearts and break down the walls of misunderstanding.
Tracy Riva
For the rest of this review, https://www.amazon.com/Hyphema-Chelle-Cordero/dp/0615877281
Hipema Links
 https://itunes.apple.com/us/book/id1130377502
 https://store.kobobooks.com/en-us/ebook/hipema
 https://itunes.apple.com/us/book/id1130377502
http://www.barnesandnoble.com/w/hifema-chelle-cordero/1124020052
Kindle
Coming Soon!
https://www.scribd.com/book/316906221/Hipema
Also Available through:
3M, Baker and Taylor, Follet,  Overdrive, Gardners, Chegg, StreetLib, and Google Play
Hipema Sneak Peek Video (English)
or
or
http://books.noisetrade.com/chellecordero/preview-hipema-by-chelle-cordero
Fotografía de  Mark Engelman
Chelle Cordero
Chelle Cordero escribe historias de pasión y suspenso. Vanilla Heart Publishing ha publicado nueve novelas de Cordero: Bartlett's Rule; His Lucky Charm; Within the Law; Courage of the Heart; Final Sin; Hostage Heart; A Chaunce of Riches; Common Bond, Tangled Hearts; Hyphema; y Within the Law. Actualmente trabaja en su décima novela y promete otra historia de aventura y reconfortante amor. Chelle ha escrito libros tanto de ficción como no ficción la mayor parte de su vida adulta y ha estado con Vanilla Heart Publishing desde principios del 2008.
Sus libros han sido muy aclamados: Bartlett's Rule fue nombrado uno de los 10 mejores libros del 2009 por of Carolyn Howard-Johnson. El último pecado tuvo Mención de Honor en la Categoría de Ficción en el Festival del Libro 2010 en Nueva York así como una nominación para el Premio Pushcart el mismo año. Hyphema ganó, el 9 de diciembre de 2011 el Friday Book Cover Vote en la página de internet Shades of Love. A Chaunce of Riches fue el ganador de  D. Renee Bagby's readers' choice en la categoría The Best Overall First Chapter en abril de 2010. Y Hostage Heart, Final Sin y A Chaunce of Riches han sido finalistas en los 10 mejores libros según la encuesta del 2009 de Preditors' and Readers. Chelle también ha aparecido en "50 excelentes autores que deberías leer" de The Author´s Show en el 2010.
Chelle Cordero tiene un blog de autor en http://chellecordero.blogspot.com/, un blog promocional blog en http://ccepotourri.wordpress.com y su página de internet http://ChelleCordero.com ofrece información de todos sus libros y publicaciones. Los blogeros y medios de comunicación están invitados a visitar la sala de medios de comunicación en https://chellecordero.com/media/ con fotografías y otra información para ser descargada.
Chelle vive en el noreste del país con su esposo, Mark, y su familia. Tienen dos hijos, adultos, Jenni (y Jason) y Marck (y Trish); también viven con tres gatitos traviesos y consentidos, uno de ellos se ha instalado permanentemente en el escritorio de Chelle. Chelle es periodista autónoma de tiempo completo para varias publicaciones; sus artículos aparecen regularmente a lo largo de América del Norte y escribe una columna mensual en NYS Emergency Medical Services como NYS Emergency Medical Technician (Noticias de la Primera Respondedora)
Translator for the Spanish Editions

Mariana Sánchez Carranza
Mariana Sánchez Carranza – Traductora mexicana, licenciada en idiomas con especialización en traducción e interpretación por el Centro Universitario Angloamericano. Ha participado en talleres de traducción literaria impartidos por la OMT (Organización Mexicana de Traductores) de la cual es miembro y la ATA (American Translators Association).
~~~
Mariana Sánchez Carranza – Mexican translator who has a B.A. in Languages with a specialization in Translation and Interpretation. Attendee at literary translation workshops organized by OMT (Mexican Translators Association) at the International Book Fair in Guadalajara, Jalisco and the ATA (American Translators Association).