You are currently browsing the tag archive for the 'contemporary suspense' tag.
He really was trying to be helpful, thought Jake. Still, something was bothering him about the information the guy was handing them. It was almost like he was trying to be too helpful.
Jake berated himself for thinking poorly about Larkin, after all, with everything he had witnessed that night it was no wonder that he wanted the bastard caught. At least that was what he had told the detectives. He had even come in voluntarily to answer questions, they didn't have to ask him to be there.
He let the other team members ask the questions while he quietly made notes. But when Larkin couldn't, or wouldn't, get specific enough about which bar he and the mysterious John had picked the girls up in, Jake voiced his dissatisfaction with an impatient sigh and a snort. And he got a disapproving look from his superior for that.
"I don't remember, we went to several nightspots, I don't remember which one we were in when we met Holly and Beth. All I know it was somewhere in Westchester." He whined. Larkin fixed his watery eyes on Jake. "I am so sorry, I really wish I could remember."
Jake excused himself from the room, he'd get the notes from the rest of the interview from one of the detectives.
Larkin had worked with a police artist and now Jake had a sketch of the perp. He also had a photo of Holly and an artist's sketch based on a reconstruction of Beth's face. He sent those pictures over the wire to the local Westchester police along with a list of the clubs Andrew had named. Now if only someone would recognize the missing man and give them some clue as to his whereabouts.
Meanwhile he had pulled several missing persons files on descriptions matching the two girls; sometimes the victim's identity was an important lead as to who the murderer was. There were a few files that came close, but so far nothing had matched.  Jake was suspicious by nature, and in this business it was best to check out everything, so he ran any information he had on Andrew Larkin through the computers as well. The man came up squeaky clean.
It irritated Jake that Larkin didn't have even a traffic violation on his record. Something about Larkin bothered Jake and he was hoping to find something out about him that would justify his dislike of the other man. He just couldn't figure it out.
The forensics team had found evidence that the car found at the scene was the same vehicle that had carried the two girls and Larkin. There were inconclusive signs of a fourth person. Only Larkin's prints were on the steering wheel but that only confirmed the story that he had related to them. The carpeted floor mats were filthy and it seemed impossible to get a clean copy of any shoe prints. The well-worn cloth-covered seats didn't give up much evidence either.
The team was thorough about collecting any evidence from the car in the hopes that they might get some leads on the identities of the other three occupants. The tires were well worn but scrapings were made from the treads to see if there was any telltale substance that might lead them to a garage, industrial parking lot, construction site or anywhere that Larkin might not have remembered driving to that night.
The lab techs collected shoeprints and fingerprints from all the responding emergency service workers and had diligently weeded those out of the prints found in the cabin. It was time consuming but necessary. Still, although they were able to pick up another man's shoe prints, they had nothing else to go on.
Curiously neither of the girls seemed to have carried a purse with them, at least they didn't have one at the crime scene. Both female victims had been dressed in similar gauzy robes with no underwear or footwear. What should have been their normal street clothes were missing and Jake wondered if the absent man had taken those items with him as some sort of perverted souvenir. It wasn't unusual for the police to find a victim's personal effects among a killer's treasured possessions, a trophy collection of sorts.
Without any hard evidence, the trail was already feeling cold. Jake was frustrated at the lack of clues. The crime was definitely one of the more heinous he had ever encountered, he rarely felt as jolted as he did now. He couldn't explain the strange foreboding he had about this case or the frantic need to solve it immediately.
Final Sin was an
Honorable Mention in the Fiction Category of the 2010 NY Book Festival 
To purchase: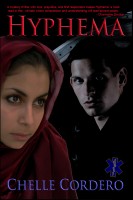 Prologue
Matt was looking down over the dark water as they were being buffeted by the winds.
"It's always choppy over here," shouted Tony, the pilot. "You get used to it after a while."
They had just finished their pre-flight check when they got banged out on an emergency transport job. The patient, a diabetic male in his forties, was in distress after being pinned under a car in a freakish accident. The bulk of the damage was centered on his back after the car fell off of its jack. His urine was filled with blood and he needed immediate transport to a level one trauma center.
North Carolina's Outer Banks had a reputation for beauty and serenity. Several old fishing villages dotted the barrier islands along with spacious homes and bed and breakfasts. Matt was thinking of taking Sudah and Aden there for a weekend jaunt soon.
Luckily the area was served by a state of the art hospital center so any injured or sick could be treated there without the hour-and-a-half commute a car would need. With a serious trauma, patients could at least be stabilized, and air transportation used to one of the trauma centers inland.
"Have you ever been out here before Matt?" Frank was a thirty three year old critical care flight nurse who had grown up in the area.
"Nope. First time." Matt had not ventured far from New York where he grew up until he decided to move his family to North Carolina after a job offer from NC Air EMS.
The LZ was lit up on the grounds of the hospital and Tony was preparing to put the chopper down. Matt and Frank remained quiet. All three were communicating through the headsets in their helmets; the sound of the rotor above them would have made it too noisy to talk otherwise.
It was still his first week in the new job and only his second living in the area. It amazed him that Sudah was so supportive even though he practically yanked her and the baby from New York. She stood by him, never questioning his decision and saying goodbye to their friends without even a tear. He was going to do everything he could to make sure this worked.
Matt felt the EC 145 bank hard to the right as Tony brought the bird around. His harness held him securely in the seat. He smiled as he watched the landscape grow bigger and realized that he was finally in his dream job.
Buy Links