You are currently browsing the tag archive for the 'FREE' tag.
JUST BROWSING THE INTERNET AND FOUND A FEW  TERRIFIC QUOTES
"The beauty of standing up for your rights is others see you standing and stand up as well." ~ Advice columnist Cassandra Duffy
~~~~~
"In the end, it's not the years in your life that count. It's the life in your years."
~ Abraham Lincoln
~~~~~
"It does not look likely to stir a man's soul,
'Tis the deeds that were done 'neath the moth-eaten rag,
When the pole was a staff, and the rag was a flag."
~ Sir Edward B. Hamley
~~~~~
"For our own success to be real, it must contribute to the success of others."
~ Eleanor Roosevelt
~~~~~
"You're the emblem of The land I love. The home of the free and the brave."
~ George M. Cohan
JUST BROWSING THE INTERNET AND FOUND A FEW  TERRIFIC QUOTES
"When you've worked hard, and done well, and walked through that doorway of opportunity…you do not slam it shut behind you…you reach back, and you give other folks the same chances that helped you succeed."~Michelle Obama
~~~~~
"My mission in life is not merely to survive, but to thrive; and to do so with some passion, some compassion, some humor, and some style." ~ Maya Angelou
~~~~~
"Often we look so long at the closed door that we do not see the one that has been opened for us." ~ Helen Keller
~~~~~
"Long ago, there was a noble word, liberal, which derives from the word free. Now a strange thing happened to that word. A man named Hitler made it a term of abuse, a matter of suspicion, because those who were not with him were against him, and liberals had no use for Hitler. And then another man named McCarthy cast the same opprobrium on the word. … We must cherish and honor the word free or it will cease to apply to us." ~ Eleanor Roosevelt
~~~~~
"No one ever got ahead by going through the motions. You have to constantly be improving yourself. Make your life the masterpiece you want it to be."
~ Queen Latifah
Download a FREE printable
bookmark for His Lucky Charm
by clicking on this link
JUST BROWSING THE INTERNET AND FOUND A FEW TERRIFIC QUOTES
"Waste no more time arguing about what a good man should be. Be one." ~ Marcus Aurelius
~~~~~
"The ultimate tragedy is not the oppression and cruelty by the bad people but the silence over that by the good people." ~ Martin Luther King
~~~~~
"Be yourself, fill your life with good people, and don't get a big head. It can all be gone tomorrow." ~ Molly Sims
~~~~~
"I've learned that people will forget what you said, people will forget what you did, but people will never forget how you made them feel." ~ Maya Angelou
~~~~~
"Human kindness has never weakened the stamina or softened the fiber of a free people. A nation does not have to be cruel to be tough." ~ Franklin D. Roosevelt
This weekend, Saturday and Sunday,
the 26th & 27th
my short holiday stories
are FREE (for Boxing Day weekend)
So fill up those Kindles you 
got for Christmas!

Dini didn't want to think about her past. And, Seth wasn't thinking about anything but his past. Thrown together as Santa and his Number One Elf at the homeless shelter, Dini and Seth seem to be on opposite sides… of everything. Her past is catching up to her, and Seth may risk his future to protect her.
a holiday short story
by Chelle Cordero
A short story about finding holiday happiness when you didn't realize it was right there with you all along.
Giving a Kindle as a gift this holiday season?
Load it up with #FREE books from Amazon.
This Chelle Cordero sampler is free for your enjoyment. All of Chelle's great books are available in both print and ebook editions for every reading device, through online retailers and in select bookstores around the world. Audiobooks available at Amazon, iTunes, and Audible. Four chapters each of Ten Chelle Cordero Novels…
Karma Visited 
Do you believe in karma? Annie Furman has a gift that allows her, while she sleeps, to visit people in their time of need – but who will be there for her when she needs help? Undersheriff Dave Turner is investigating a series of home invasions and homicides. He has no idea that solving this case will lead him to the woman of his dreams.
Hyphema
Hyphema: Bleeding in the eye caused by trauma… Matt Garratti, a paramedic from New York, moves his wife and son to North Carolina to work at his dream job as a flight medic. Pakistani born Sudah, his wife, receives frosty stares and insensitive comments from their new neighbors… Matt wonders if he is pursuing his dream or bringing his family into a nightmare from which they may never wake.
His Lucky Charm
What happens in Vegas doesn't always stay in Vegas… this time it follows Brandon and Caitlyn across the country and into a world of espionage and danger. The one thing that Brandon knows for sure is that he can't afford to lose his lucky charm, Caitlyn.
Common Bond, Tangled Hearts
Layne Gillette's world is turned upside down when a man she has never met shows up to lay claim as the father of her 6-year old son. When Layne's abusive "ex-husband" shows up, they are torn apart by danger, kidnapping and lies.
A Chaunce of Riches
Ben Johnson was hired as a bodyguard for a rich widow and her kid, but he never expected to be working for the woman who had abandoned him just when he had needed her the most. Damn it all, he still wanted her. Samantha Chaunce never thought she would have to explain why she married the rich man instead of Ben. Or that her husband had been murdered…and Ben was the prime suspect.
Hostage Heart
Life was hard after the hurricanes swept through, destroying her parents' home and livelihood… An errand for her boss – a chance encounter with a crew of bank robbers – a kind man who tried to help her … a man who isn't all he seems…no, he is so much more
Final Sin
Deputy Sheriff Commander Jake Carson has his hands full… investigation of a brutal multiple homicide, a troubled son and a vindictive ex-wife. He meets young, free-spirited paramedic Julie Jennings. When Julie becomes the subject of an obsession, it puts both of them in danger…
Courage of the Heart
Sometimes love is the only cure for the very deepest of emotional wounds. The story of the two lovers takes a series of unexpected and fast paced turns where lives, sanity and love are put in jeopardy. Their commitment to one another results in a spirit that binds them together and helps them to overcome physical and emotional dangers.
Within the Law
Tom gave up on ever falling in love again the day that he buried his high school sweetheart and fiancé. He started a career in law enforcement just so that he could find her murderer and rapist. Just when he is about to see justice done, he meets Alli Davis-the defense attorney for the murdering rapist who took his love from him.
Bartlett's Rule
Bartlett's Rule shares the story of Lon and Paige's love affair; a romance filled with hardship, emotion, danger and triumph. Falling in love was never the challenge; being there for each other, knowing just what to say and making it work is the real test. Paige and Lon are real; they are human, they cry and they laugh. Paige has to learn to trust. Lon has to learn to be patient.
There isn't much better than
getting FREE stuff!
Although it isn't half-bad being
the one giving it away…
Here is what I have for you:
Download Chelle's audio story NOT ALONE
from this short story collection [FREE]
(
narrated by Wendy Tremont King
)
 A fifteen minute short story in Audio
~~~~~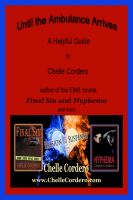 Until the Ambulance Arrives – A helpful guide by Chelle Cordero, Emergency Medical Technician, CPR and First Aid Instructor, and long-time volunteer with her local ambulance corps. Chelle is a multipublished author, journalist and writer for multiple publications, and has included teaser chapters of her two EMS Novels – Final Sin and Hyphema – in this free e-book.
~~~~~
Consistently rated in the Top 100 for Amazon Kindle Blogs, Chelle Cordero""s Living, Breathing, Writing is now available in EBook form and here is a generous sample! Check out the Table of Contents to see all the chapters and Bonus content!
~~~~~
Read
Chelle Cordero's 2013 Sampler
for a generous taste of
all her suspense novels, her short story collection, and her
books on writing and being a writer. More than 230 pages.
~~~~~
& FREE BOOK DISCUSSION PACKETS:
 Karma Visited (pdf file)
Bartlett's Rule (pdf file)
His Lucky Charm (pdf file)
Final Sin (pdf file)
Hyphema (pdf file) 
Hostage Heart  (pdf file)
Courage of the Heart (pdf file)
Common Bond, Tangled Hearts (pdf file)
Within the Law (pdf file)
A Chaunce of Riches (pdf file)
Celebrating the Release of
the Audio Edition of Chelle Cordero's
The Many Faces of Chelle Cordero,
Chelle and Vanilla Heart Publishing
are offering a
FREE PREVIEW of her short story
Not Alone, in Audio.
Limited time offer – grab yours today! 
Download the info sheet on Many Faces of Chelle Cordero
Many Faces PREVIEW for BB w links (.pdf)
complete with buy links & descriptions of all of
Chelle Cordero's books
My husband and I celebrated our 38th wedding anniversary on Saturday December 28! That put me in a real good mood so I'm going to celebrate by giving YOU presents.
…I want to ask you for a favor; my publisher wants us to give interviews and I need questions. Please think of a writing related question you want me, Author Chelle Cordero, to answer and then post it on my Facebook page
https://www.facebook.com/AuthorChelleCordero
 (
if you haven't already you will have to "LIKE" the page
)
I'll choose up to 10 questions to answer in a blog on Wednesday, January 8. I will give each person whose question I choose a gift – either a FREE downloadable audio book or an e-book from Smashwords (randomly chosen). Last day to submit a question is Sunday, January 5, 2014.
It's simple – LIKE my Facebook Author page, post an author interview question, and read my responses on January 8 on The Potpourri Parlor , my Facebook page, my blog  and my website.