You are currently browsing the tag archive for the 'book clubs' tag.
There isn't much better than
getting FREE stuff!
Although it isn't half-bad being
the one giving it away…
Here is what I have for you:
Download Chelle's audio story NOT ALONE
from this short story collection [FREE]
(
narrated by Wendy Tremont King
)
 A fifteen minute short story in Audio
~~~~~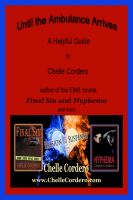 Until the Ambulance Arrives – A helpful guide by Chelle Cordero, Emergency Medical Technician, CPR and First Aid Instructor, and long-time volunteer with her local ambulance corps. Chelle is a multipublished author, journalist and writer for multiple publications, and has included teaser chapters of her two EMS Novels – Final Sin and Hyphema – in this free e-book.
~~~~~
Consistently rated in the Top 100 for Amazon Kindle Blogs, Chelle Cordero""s Living, Breathing, Writing is now available in EBook form and here is a generous sample! Check out the Table of Contents to see all the chapters and Bonus content!
~~~~~
Read
Chelle Cordero's 2013 Sampler
for a generous taste of
all her suspense novels, her short story collection, and her
books on writing and being a writer. More than 230 pages.
~~~~~
& FREE BOOK DISCUSSION PACKETS:
 Karma Visited (pdf file)
Bartlett's Rule (pdf file)
His Lucky Charm (pdf file)
Final Sin (pdf file)
Hyphema (pdf file) 
Hostage Heart  (pdf file)
Courage of the Heart (pdf file)
Common Bond, Tangled Hearts (pdf file)
Within the Law (pdf file)
A Chaunce of Riches (pdf file)
If you are looking for a ready-made book discussion for your book club or other group, you've come to the right spot!
The following books have easily downloadable book discussion packets & extras with purchase links for print or e-book copies – and ALL of my books are available for Kindle, Nook, Apple IPad, .pdf,  and text so it doesn't matter what e-reader you have or if you prefer to read on your computer.
click on the book cover or title to download a
FREE pdf book discussion packet
Bartlett's Rule shares the story of Lon and Paige's love affair; a romance filled with hardship, emotion, danger and triumph. Falling in love was never the challenge; being there for each other, knowing just what to say and making it work is the real test. Paige and Lon are real ; they are human, they cry and they laugh. Paige has to learn to trust. Lon has to learn to be patient.
His Lucky Charm – ISBN-13: 978-1935407577; ASIN: B003DA44RO
What happens in Vegas doesn't always stay in Vegas… this time it follows Brandon and Caitlyn across the country and into a world of espionage and danger. The one thing that Brandon knows for sure is that he can't afford to lose his lucky charm, Caitlyn. Previously released as Forgotten, by Chelle Cordero
Final Sin –  ISBN-13: 978-1935407133; ASIN: B00284B0XM
Deputy Sheriff Commander Jake Carson has his hands full with the investigation of a brutal multiple homicide, a troubled son and a vindictive ex-wife when he meets young, free-spirited paramedic Julie Jennings. He is immediately drawn to her and finds himself unexpectedly falling in love. Julie finds herself just as drawn to him. When Julie becomes the subject of an obsession, it puts both of their lives in extreme danger…  Romance…danger…adventure…suspense…another great Chelle Cordero novel sure to grab readers from many genre!
Final Sin was an Honorable Mention in the Fiction Category of the 2010 NY Book Festival & a 2009 Pushcart Prize nominee.
Hyphema  ISBN-13: 978-1935407843; ASIN: B004WSXFKS
"
Hyphema: Bleeding in the eye caused by trauma
…"
Matt Garratti, a paramedic from New York, moves his wife and son to North Carolina to work at his dream job as a flight medic. Pakistani born Sudah, his wife, receives frosty stares and insensitive comments from their new neighbors. Before long, Matt wonders if he is pursuing his dream or bringing his family into a nightmare from which they may never wake.
Purchase Links