You are currently browsing the tag archive for the '9/11' tag.
JUST BROWSING THE INTERNET AND FOUND A FEW  TERRIFIC QUOTES
"Every action in our lives touches on some chord that will vibrate in eternity."
~ Edwin Hubbel Chapin
~~~~~
"Heroes are never perfect, but they're brave, they're authentic, they're courageous, determined, discreet, and they've got grit." ~ Wade Davis
~~~~~
"We gain strength, and courage, and confidence by each experience in which we really stop to look fear in the face…we must do that which we think we cannot." ~ Eleanor Roosevelt
~~~~~
"Fear can keep a man out of danger but courage only can support him in it."
~ Thomas Fuller
~~~~~
"My heroes are those who risk their lives every day to protect our world and make it a better place – police, firefighters and members of our armed forces."
~ Sidney Sheldon
Hyphema
by Chelle Cordero

Amazon – http://amzn.to/2gHpr6b
Barnes&Noble – http://bit.ly/1my5o6z
Smashwords – http://bit.ly/2fAIW4s
iTunes – http://apple.co/2fAJ8AC
I sat down to read Hyphema late one night. I thought I would start it, read for about thirty minutes and then go to sleep; instead, I stayed up till almost four in the morning reading it. Immediately immersed in the story, the tension never let up enough for me to even consider putting it down and coming back to it later.
Matt is an air ambulance EMT, a flight medic. He has just moved his son, and his Pakistani wife, to a small town in North Carolina from New York so he could have this job. The job is his dream job and Sudah, his wife, couldn't be more supportive. She is patient, caring and so obviously in love with Matt and their son that it just spills over onto the page. She's the kind of person I'd like to have for a neighbor, but not everyone, even within the circle of Matt's work buddies and their wives feel that way, but Sudah handles the anger and prejudice with grace and softly spoken words meant to soften hearts and break down the walls of misunderstanding…
Matt and Sudah face obstacles that severely test their relationship and their marriage. I do not want to go into anymore of the specifics here, but while Matt and Sudah's relationship plays an important role in the book, the story is much more of an extremely well written thriller and I definitely recommend reading it.    (read the full review)
JUST BROWSING THE INTERNET AND FOUND A FEW TERRIFIC QUOTES
"Quality is not an act, it is a habit." ~ Aristotle
~~~~~
"Some people spend their whole life wondering 'Did I make a difference?' — Some people don't need to wonder." ~ Medictests.com
~~~~~
"Every day, you're called upon to help others through one of the most frightening times of their lives. Every day, you're called upon to provide a sense of security and relief during chaotic and challenging situations. Every day, you're called upon to do the work that only a select few can do. Every day, you're 'Called to Care'." ~ EMS Strong website
~~~~~
"Air goes in and out. Blood goes round and round. Any deviation is a problem." ~ Anonymous
~~~~~
"You have never really lived until you have done something for someone who can never repay you." ~ John Bunyon
Celebrating the men and the women
who answer the call
There isn't much better than
getting FREE stuff!
Although it isn't half-bad being
the one giving it away…
Here is what I have for you:
Download Chelle's audio story NOT ALONE
from this short story collection [FREE]
(
narrated by Wendy Tremont King
)
 A fifteen minute short story in Audio
~~~~~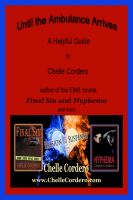 Until the Ambulance Arrives – A helpful guide by Chelle Cordero, Emergency Medical Technician, CPR and First Aid Instructor, and long-time volunteer with her local ambulance corps. Chelle is a multipublished author, journalist and writer for multiple publications, and has included teaser chapters of her two EMS Novels – Final Sin and Hyphema – in this free e-book.
~~~~~
Consistently rated in the Top 100 for Amazon Kindle Blogs, Chelle Cordero""s Living, Breathing, Writing is now available in EBook form and here is a generous sample! Check out the Table of Contents to see all the chapters and Bonus content!
~~~~~
Read
Chelle Cordero's 2013 Sampler
for a generous taste of
all her suspense novels, her short story collection, and her
books on writing and being a writer. More than 230 pages.
~~~~~
& FREE BOOK DISCUSSION PACKETS:
 Karma Visited (pdf file)
Bartlett's Rule (pdf file)
His Lucky Charm (pdf file)
Final Sin (pdf file)
Hyphema (pdf file) 
Hostage Heart  (pdf file)
Courage of the Heart (pdf file)
Common Bond, Tangled Hearts (pdf file)
Within the Law (pdf file)
A Chaunce of Riches (pdf file)
This booklet is intended as a guide to help you get through a medical or trauma crisis – it is not intended to replace professional medical or emergency response or advice.
Download this FREE .pdf ebook now from PayLoadz
PEOPLE DEAL WITH EMERGENCIES DIFFERENTLY, BUT NO MATTER HOW SERIOUS OR MINOR THE EVENT MAY SEEM TO SOMEONE ELSE, EACH PERSON WHO EXPERIENCES PAIN, FEAR OR LOSS FOR THEMSELVES OR A LOVED ONE IS DEALING WITH A TRUE CRISIS. IT IS MY HOPE THAT THIS BOOKLET WILL GIVE A LITTLE COMFORT WHEN IT COMES TO DEALING WITH AN EMERGENCY.
Rockland County Residents
Janet M. Alonso 41 Stony Point NY
Calixto Anaya Jr. 35 Suffern NY
Japhet J. Aryee 49 Spring Valley NY
Richard E. Bosco 34 Suffern NY
Sgt. John Gerard Coughlin 43 Pomona NY
Welles Remy Crowther 24 Upper Nyack NY
John D' Allara 47 Pearl River NY
Bernard D. Favuzza 52 Suffern NY
Thomas Foley 32 West Nyack NY
Andrew Fredericks 40 Suffern NY
Robert Joseph Gschaar 55 Spring Valley NY
Dana Hannon 29 Suffern NY
Capt. Frederick Ill Jr. 49 Pearl River NY
Farah Jeudy 32 Spring Valley NY
Joseph Marchbanks Jr. 47 Nanuet NY
John Marshall 35 Congers NY
Patricia A. McAneney 50 Pomona NY
Robert Garvin McCarthy 33 Stony Point NY
Robert William McPadden 30 Pearl River NY
Luke G. Nee 44 Stony Point NY
Gerald O'Leary 34 Stony Point NY
David Ortiz 37 Nanuet NY
Lt. Vernon Allan Richard 53 Nanuet NY
Thomas G. Schoales 27 Stony Point NY
Mohammed Shajahan 41 Spring Valley NY
Gregory Sikorsky 34 Spring Valley NY
Catherine T. Smith 44 West Haverstraw NY
Robert W. Spear Jr. 30 Valley Cottage NY
Loretta A, Vero 51 Nanuet NY
Benjamin Walker 41 Suffern NY
Weibin Wang 41 Orangeburg NY
Steven Weinberg 41 New City NY
Capt. David T. Wooley 53 Nanuet NY
And remembering with gratitude all of the rescue workers who put their own health in jeopardy during the following bleak weeks and months of recovery.
In tribute to our warriors in the Armed Services and in Emergency Services who work to keep us safe.