You are currently browsing the tag archive for the 'contemporary romantic suspense' tag.
and after Karma Visited…

Dave was working late that night doing a double, he was covering someone else's shift. Maybe that was a good thing, Donna had already raised his suspicions and it wouldn't sit well that she had continued to avoid Annie. He would want to investigate, he would want to know what Donna's story was. Annie was getting curious too, but she was determined to handle it her way. Annie was sure that Donna wasn't a widow, she just wasn't sure what was going on and why the woman was so scared of the police.
Sighing loudly she plopped down in the old recliner where she loved to study; she was annoyed because she was letting herself get too wrapped up with what was going on with her tenant. Her gaze settled on the coffee table where Dave left one of the books that he bought online about astral projection. Until now she only practiced the exercises when he was there, she still frequently traveled in her dreams but none of those were really controlled.
She wondered how many dreams belonging to other people she shared. It was hard to forget the sexy dream on Dave's couch or his angry dream about his ex. She would have to learn to get more control of those travels also, the last thing she wanted to do was intrude on other people's personal thoughts. Annie couldn't help the grin that came to her face as she thought of Dave's acceptance of all the strange baggage she brought with her. She didn't think she could be so calm if the situation were reversed.
"What the heck," she spoke to the empty room, "I'm not frightened anymore." There was a tiny tremor to her voice as she reached to pick up the book. Annie opened the book to one of the exercises and read it quietly as she walked to her bedroom; then she put the book down on the bed and sat cross legged next to it just the way she did when she practiced with Dave. She held a modified Lotus pose and focused on breathing easily, she felt each breath cleansing the path it took, until she felt completely relaxed.
Annie piled a few pillows and laid down facing the ceiling. With her eyes closed she continued to relax her body until she felt close to drifting off to sleep. Her body began to tingle slightly as she relaxed her muscles and felt as if only the bed was keeping her at that time and place. Holding herself in that hypnagogic state between consciousness and sleep, Annie concentrated on her inner self. She believed she could make the transition on her own, Dave had helped her learn how to do that.
The vibrations in her limbs were growing stronger and now was when she had to free her mind of everything except where she wanted to go. It would be fun to pay a visit to Dave at work and surprise him by telling him she was really awake. He had worked with her so seriously and he was so patient, she was sure he would be happy to know how much progress they were making. Annie was sure she would succeed. She almost lost her control when she chuckled about this strange hobby the couple shared. Releasing a slow deep breath, she gently brought herself back to the transition phase.
********
She heard barking. It was really more like a whining. Annie was in a white room, there were no windows or doors, the room seemed to go on forever. She turned and watched a shadow in the distance running towards her. Slowly the shadow took on the form of a dog and it came closer, the whining grew louder and more pitiful.
She knelt to greet the pup and stretched her arms out. It was a medium sized brown dog and she was horrified to see blood dripping from its body. The closer the dog came, the more it bled. She could feel her tears falling as her arms wrapped around the dog and she saw the dog's blood on her arms. He rested his head on her shoulder and howled in pain. His paws began to slip out from under him and the whining grew weaker. Annie tried to find the source of the blood, there was just too much.
The dog slumped against her bent knee and looked at her. His eyes were filled with blood and she swore that there were tears. She cried harder as the dog's panting grew slower and he laid on the white floor in a pool of blood. The dog stopped panting and was still. Annie tried to wake him but she knew he was gone.
Annie woke with a loud gasp. There were tears on her cheeks. She looked at her arms, even though she could feel the blood there was none. Her arms were clean. She had to catch her breath before she could even stand.
buy links
also available in French, Spanish & Italian
Prologue
Deanna had a heavy feeling as she headed to work. Maybe it was just those extra bills that had come due. She had been sending a large portion of her paycheck back home to her folks ever since she came to the city. There really wasn't that much paycheck to go around. She hadn't been prepared for that assessment the landlord passed on to his tenants for the boiler repair. There just wasn't any place else where she could cut spending. She already walked to and from work, never went out and spent money with her friends, and she even bought day old breads and produce rather than fresh. She counted her blessings on a daily basis that she had a job and a roof over her head, no matter how meager, but she found herself bordering on frustration every time she balanced her checkbook.
She made up her mind, today she was going to ask Rob if there was any way he could raise her salary a bit. She was willing to take on extra work; she just needed to be able to keep sending money home. The hurricanes had pretty much devastated parts of Louisiana over the last few years. The resulting tornadoes hit surrounding areas and wiped her folks out. There was no way they were able to rebuild their home and the business. She graduated high school out of a makeshift building before the last round of storms hit. Her original plans were to remain at home for a while and maybe find a job down there. Her parents had always figured she could come into the shop with them but there was no more shop to generate money.
Deanna decided to go someplace where she could earn some money to send home to them. Deanna made the move to New York City and had been trying to build a life for nearly a year. A trailer sat on the site near where Deanna remembered her favorite tire swing ever since Katrina and Rita ravaged the area. Her parents didn't complain. There was no way she wanted to let them know how tight things were for her. She let them believe that money was rolling in or they never would have accepted the money she sent back home.
Clutching her purse tightly to her side, Deanna entered the bank. She was supposed to get some smaller bills for the register this morning on her way into work. She didn't like walking around with so much money, but Rob insisted that he trusted her to take care of things. Deanna wasn't naïve; she knew that her neighborhood wasn't exactly the most crime free in the city. She worried about the responsibility of carrying that much money. If she lost it, there was no way at all that she'd be able to replace it. There never had been any temptation to take what didn't belong to her but she did allow herself a brief fantasy during the night that the wad of bills in her purse was really hers.
She stepped in line with about half a dozen other customers. She stood behind a very broad shouldered man in a suit and she had to stand on tip-toe to try to look around him to see how fast the line wasn't moving. He turned towards her and smiled as he adjusted his glasses. His brown wavy hair and bronze complexion stood out against his light brown suit. The ends of his hair brushed his collar. Deanna smiled back politely while hoping she wouldn't encourage him into a conversation.
He was very attractive and she kept looking towards him when he wasn't looking at her. Under other circumstances, she wouldn't have minded trying to engage him in a conversation. But as it was, she needed to be at work soon and she couldn't forget the money she was carrying. He kept checking his watch and she wondered if he was late for some important business meeting. Deanna checked her own watch and hoped she could make it to the store in time to open the doors on schedule.
Finally the gentleman in front of her was the next in line. Suddenly there was a shout and a scream. Deanna turned and saw two men –and then a third–with stocking-covered faces waving very large and frightening handguns.
"Everybody get down! And keep your faces to the floor."
All of the bank's customers obeyed immediately. When Deanna raised her head to watch what was happening, the man who had been standing in front of her gently pushed her back down.
"Do as they say," he cautiously whispered to her from his own position on the floor.
She could see the feet of the frightened tellers as they were ushered toward the front of the counter to join the rest of the customers. One poor young man was stopped and dragged back behind the counter to empty the cash drawers into a sack. Deanna heard muffled sobbing around her.
One of the masked robbers was moving through the mass of people on the floor demanding wallets, purses and jewelry. Perhaps foolishly, Deanna decided she wasn't going to give up the store money without some kind of protest. She also slid her grandmother's birthstone ruby ring off of her hand and slipped it down her bra front for protection.
"Open your purse."
"No." He grabbed for it and she wouldn't let it go.
"Damn it, it's not worth dying for." The man spoke to her again in a harsh whisper. She saw that he was eagerly handing over his own wallet.
The purse was wrested from her hand. "No. Give it back!"
He heard the gentle twang in her voice and was intrigued by it. "Don't be an idiot!" he grumbled under his breath.
Deanna raised her head and her voice in anger. "Will you just be quiet! Ow!" She felt her head being yanked backwards by the hair and she found herself staring at the stocking face of one of the robbers.
"Stand up!" She was forced to her feet. "You want to fight?" A gun was pressed against her ribcage. "I'll give you something to fight about." He started to push her towards one of the office doors.
"Where are you taking me?" Sudden terror seized her. She tried to break away but found his grip on her was too strong. "Please. I'm sorry…" Her imagination ran wild with horrible possibilities. Tears began to sting her cheeks.
"Well gee, I got me Scarlett O'Hara, boys." The bank robber laughed as he announced his find to his cohorts.
"Let her go." The man from the front of the line made a meek plea for her safety.
"Mind your frigging business!"
Deanna continued to struggle and finally broke free. The robber lunged for her. Faster than she was aware, the suited customer was standing and pushed her protectively behind him. He blocked the robber and they scuffled. She stepped backward and was terrified to see the robber gain the advantage and hold the gun to the man's temple. One arm wound its way around the would-be rescuer's neck and he was quickly subdued.
She stood trembling. "Oh Gosh, I'm sorry…"
No one else wanted to take a risk. Everyone obeyed the robbers' demands. The young teller finished filling the bag, customer pockets were emptied of valuables. The gun was still being held on the attractive stranger.
"Get back down on the floor!" The robber commanded Deanna to lie down on the floor.
She was shaking with fear and with guilt. "Please let him go."
"Lie down!"
She hesitated briefly and then did as she was told.
"Now everyone just remain where you are. Count slowly to three-hundred. If I hear any police sirens or see any cop cars, I will kill this man." The robbers began to back out of the bank with one of them dragging the struggling man with him.
Deanna couldn't let them just take the man with them, not after he had risked himself to save her. She looked up and saw a large ceramic demonstration piggy bank on the counter; as soon as she saw the robber look away, she jumped to her feet and grabbed it. She ran after the robber holding the hostage and struck him in the back of the head.
The robber stumbled. "Run!" She screamed at the stranger. He stared at her in disbelief. "Run!" Finally he made a hasty retreat to the street.
Before Deanna could get safely back into the bank, she found herself being grabbed again and this time the gun was held to her head.
"You little bitch." The robber's voice was raspy. "You're coming with us instead, then." He dragged her pleading out the doors and threw her into a van just outside on the street.
Another one of the assailants grabbed her to tie and gag her as the vehicle made a hasty retreat. About a block later, the van made a quick stop and Deanna was surprised to see the suited customer step into the van.
He looked at her in anger. "You couldn't leave well enough alone, could you?"
To purchase: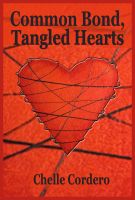 Prologue
If he was reading her surprised expression right, she was expecting somebody else to be on the other side of the door when she swung it wide open. Cautiously, the willowy blonde pushed the door partly closed before politely inquiring if she could help him.
Justin took his time letting his eyes roam from her short, tousled hair down to her very long legs. He noticed, in typical male fashion, how very shapely those long legs were. She was wearing a loose fitting shirt and cut off jeans, her feet were bare.
Layne felt uncomfortable as the stranger's eyes made their leisurely excursion. She closed the door just a little bit more and then fortified her courage with the thought that her nosy neighbor, Mrs. Addamson, would open her door at the least little yell she might make.
"Is there something you want?" She impatiently asked him and then blushed when his eyes flew up to meet hers with an amused smile.
Oh baby, where have you been all my life? He thought and then smiled politely. "I was looking for…" he carefully checked a piece of paper he held in his hand. "…for Layne Gillette." Justin said 'Lane'.
She refrained from correcting his pronunciation. For the last few years, Layne had explained to people that it was pronounced like Janie except with an L.
"Who's asking?" No matter that he seemed to fit the exact description of tall, dark and handsome that she and her friends always joked about, she was wary of any stranger who came looking for her.
"My name is Justin Ross…" He waited just a moment to see if there was any recognition, he was disappointed. "I was told that Layne Gillette lives here."
"It's Lay-nee…" She was expressionless.
"Hi, I take it you're Lay-nee?" His eyebrows arched as he emphasized the proper pronunciation.
"What do you want?" Layne inconspicuously braced herself against the door so she could slam it forcefully in his face if need be.
"It's… uh… personal. May I come in?" He was mesmerized by her golden eyes.
"No." She was firm.
It took a moment before her refusal totally sunk in. Not many dared to refuse Justin Ross anything. He took a deep breath in and started to patiently explain to her that he needed to speak with her privately. "Look, I just came a long way… and we really need to talk…"
"Hey Mom, is that Rita?" The childlike voice startled the both of them. Layne turned her head to answer when Justin pushed on the door with his hand and knocked her off-balance. The door swung open and Justin got his first look at the little boy who had his mother's golden eyes. Like his own hair, the boy had jet-black curly locks and the contrast was extraordinary.
"Is that him?" Justin pushed his way past Layne and went to the boy. "Are you Dennis?"
The little boy stared at the stranger who had pushed past his mother. Justin didn't mean to scare him and started to smile.
She was ready to physically tackle him as she shouted at her son. "Go to your room… now!"
"But Mom…" The boy looked between the stranger and his mother.
"And close your door!" She put herself between the stranger and her child. The door to the hallway swung wide open.
"Mommmm…" He did his best to hide his trembling lower lip.
"Now!" Layne stared at him until he obeyed. She stood with her hands against Justin's firm chest to block his advance. She swung her gaze back to Justin, he could have sworn her eyes glowed with rage. "Did Charlie send you?"
He was puzzled by her strange behavior. She seemed overly melodramatic. All he wanted to do was see the boy. "Who's Charlie?" He was annoyed when he heard the click of the boy's bedroom door.
"Just answer the damn question!" Layne had tried to mentally prepare herself for just this kind of confrontation for the last six years, but she never thought her anger or her fear would be so great.
"I don't know… who the hell… Charlie is!" He forcefully brushed her hands off of him. "Look, I came to speak to you because…"
"If Charlie didn't send you, who did?" She cut him off.
Justin tried to control his own frustration. He understood this woman's need to protect the boy from someone she didn't know, but he needed desperately to see the boy. He resented her refusal.
"No one sent me!" He made sure not to yell.
"Then why are you here?" She wouldn't trust him.
"Because… we need to talk." It was harder to say it than he realized.
Layne was prepared to defend her son with her life if she had to. "…about what?"
"You and I need to talk. I'd really like to do this calmly." Justin knew she wasn't going to react very well. She was being too overprotective without knowing the reason for his visit. Once she found out…
"What do you and I have to talk about? There's nothing for us to talk about." She wasn't letting her guard down for anything. And if he thought he could just come in here and shove her around, he'd soon learn differently.
"Layne…" He tried to reach out for her, she sidestepped him. "We need to talk about… our son." He saw her look of shock. "We need to talk about Dennis."
She slowly turned her head to look at a photograph of Dennis that was sitting on the top of her television set and made the comparison to the man standing in front of her.
Suddenly she screamed at him and began to beat at his chest with her clenched fists. "Get out! Get out of here! Get the hell out of my home!"
"Layne, calm down." Justin tried to defend himself from her blows. He grabbed at her hands and tried to hold the struggling woman away from him. "Stop struggling. Just calm down!" That's when he heard a door open.
"Should I call the police, Layne?" Mrs. Addamson called across the hallway from the protection of her own doorway.
Justin wanted to see the boy again. He wanted this beautiful lunatic to stop attacking him. He didn't want to have to call his lawyer to get him out of jail. "I'll be back." Justin turned on his heel and left. Mrs. Addamson slammed her door as he entered the hallway.
Layne pushed the door closed behind him and locked it. Then she sunk down to the floor and held herself to keep from trembling.
buy links
PROLOGUE
"He is a pompous ass!"
"I agree. But he is also a big name and he has to be kept happy if we are going to pull this acquisition off successfully."
Paige sat and fumed. She couldn't believe that Jeanmarie was asking her to charm and entertain this male chauvinist pig who penned a weekly column on how men were God's gift to women.
"Why can't you just buy him dinner and tickets to a Broadway show for him and one of his many adoring hordes?"
"Excuse me?" Jeanmarie grinned mischievously.
"I said hordes." Paige emphasized the "D" sound. "Seriously, I'm sure that Lon Bartlett would prefer to choose his own company for the evening."
"Paige that would be fine if we were just sending some executive a simple holiday remembrance but we need to court this publication. And if we want the publisher happy, we make his star writer happy." She looked down at her phone as if trying to hurry the young woman from her office. "This requires a more personal touch. Take him out, wine and dine him. Do whatever you have to and make him happy."
Slowly a frown settled on Paige's face. "I hope you're not suggesting…"
Jeanmarie laughed suddenly. "Oh gosh no! All I want you to do is schmooze with him a little bit. Make sure his evening is pleasant." She stopped and stared at the young woman pensively. "You know Paige, a lot of the women in the secretarial pool would die for this chance to spend an evening with a man like Bartlett. This is a great opportunity for you… professionally."
Paige bit the inside of her cheek to keep from retorting. She spent two years in the secretarial pool waiting for a promotion into the public relations department of this company. Of course though, she thought to herself, the first time she was given an opportunity to prove herself it had to be with someone whose ethics she couldn't tolerate.
"I just need to know that you can do this Paige." Jeanmarie had taken a huge personal gamble by pushing Paige's name when this opening came up.
"I'll make sure he's happy." She nodded even though she was filled with all kinds of self doubts. In reality, Paige wasn't worried about refusing the man's possible advances, she was afraid she would be tempted to accept them.
buy links
After Karma Visited…
Annie's Karma by Chelle Cordero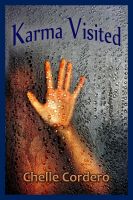 Do You Believe in Karma?
Annie Furman has a gift that allows her, while she sleeps, to visit people in their time of need – but who will be there for her when she needs help?
Undersheriff Dave Turner is investigating a series of home invasions and homicides. He has no idea that solving this case will lead him to the woman of his dreams.
Excerpt from Annie's Karma:
"
We just got into town. I haven't had a chance to make any connections yet. I'm trying to get a job and I have to open a bank account. I just enrolled my son in the school." Donna took the handwritten receipt from Annie's hand. "Thank you. This apartment will be perfect. I'm grateful that you're renting it to us."
Donna explained to Annie that she and her four-year-old son were slowly meandering their way across the country, but she realized that the child needed a stable place to live instead of being on the move constantly. She was driving through and liked the small town atmosphere she noticed in Catawai. Donna told Annie that she was a recent widow and that her husband died of cancer, it was already very advanced when they discovered it. Neither she nor her late husband had any family. She wanted to move away and get a fresh start where there weren't so many memories. She wanted someplace where her little boy could grow up without the constant reminders of a dad who was no longer there for him.
"
There wasn't much that Gene left us, but he had taken a small term life insurance policy, so at least I have cash in my pocket to pay our way for a bit without worrying too much." Donna shrugged. "Hopefully I'll get that job I interviewed for…"
Annie listened sympathetically and tried not to ask too many questions, but she noticed a look in Donna's eyes that she thought she could understand even without knowing why. She couldn't say for sure, but she knew that Donna wasn't being entirely truthful. Annie suddenly realized why she felt connected with the woman. She wondered if she had ever had that same look during the years she needed to escape from Scott. Annie decided not to question Donna's story, at least not for the time being. Maybe she could even find some way to help the other woman.
Buy Links