You are currently browsing the tag archive for the 'Colorado' tag.
Gunfire. The noise startled Annie. She froze and cautiously looked around. She had left the room with the imprisoned girl. She was outside and there was a commotion. Nearby there were two police vehicles by a tree about ten yards away, both units were empty. There was an ambulance parked beyond the police cars. Annie found herself standing next to a building with grey wooden slats, some kind of shack or barn. The morning sun was just rising and the sky above still looked inky like a storm moving in. She stepped closer to the building looking for cover even knowing the bullets couldn't harm her.
Annie watched as a man running from the back porch fell right after another shot sounded. He was sprawled motionless on the ground between the tree and the house he had been running away from. The sun flashed off of an object that flew from his hand as he fell. An officer ran to the motionless body. He touched the man's neck to check for a carotid pulse, and then he looked up at another officer and shook his head. Using a latex glove he pulled from his pocket, the officer picked up the shiny object, a large butcher's cleaver with brown stains on the sharp edge. Another officer brought over a bag and the cleaver was dropped into it. They turned the dead man onto his back and patted down his body looking for ID.
"There's nothing." One of the officers called out to another member of their law enforcement team.
Someone said a curse word behind her. It came from somewhere around the corner of the shed.
"We have no clue where the girl is. Or why he took her." Dave was coming around the shed and shouting the information to the other officers.
Annie tucked herself even tighter against the wall of a weathered shed. She looked at the face of the man lying on the ground. "That's not him." She said aloud and shook her head as she stood next the wooden structure.
"What did you say?" Dave stopped short when he saw her. He cleared the corner of the shed just in time to hear her words. Dave looked puzzled.
Annie looked at him terrified. He was looking directly at her.
"Who are you? How did you get in here?" He pointed the handgun he pulled from his side holster at her. "What are you doing here?"
Annie stared back at him. Her eyes were wide.
"I asked you a question." His words were curt.
She paused and looked at the gun in his hand. "You can see me?" She sounded surprised.
He frowned. "Of course I can see you. What the hell?" Dave raised his handgun. "Where is the girl?"
"I don't understand…" Annie shook her head. "How can you see me?"
"Don't play games. I asked you a question." He paused deliberately between each word wondering who this girl was. He only knew from Gayle's driver's license that it wasn't her.
"Hey Boss, there's no one in the house." One of the police officers ran from the back door of the house to Dave. Dave's partner, Tim, followed. They looked at his raised handgun curiously. "Everything okay, Boss?"
Dave realized that neither man acknowledged the woman he was speaking to. "Yeah." He slowly lowered the handgun. "Any sign of the girl?"
They both shook their heads.
He was puzzled that no one else questioned how she got past their cars without anyone seeing. He was skeptical but it seemed as if no one else could see her.
"There… there's another guy." Annie said the words out loud.
Dave heard her, the others didn't. "Look for another guy." Dave felt compelled to repeat her words.
"In here." Annie motioned to the shed they were standing next to. "There's a secret room."
Dave hesitated. Then he turned to the other officers. "Check the shed out. Look for a hidden door or something." He looked at his partner, "Make sure there's no other way out." He looked back at Annie.
Dave and the other officer stood on both sides of the front shed door, both of them drew their guns in anticipation of danger. Dave nodded and his partner went to kick the door in. Before he could touch it, the door exploded outwards in splinters and the man with the dirty T-shirt that Annie had seen berating the girl burst out and attacked the two lawmen.
The three men scuffled. Dave quickly had the man pinned face down. He yanked his hands behind his back and cuffed him. "Where is the girl?"
Tim ran back around the shed when he heard the commotion, but stood back when he saw that Dave had everything under control.
"Fuck you." Angry man spoke into the dirt.
"No, fuck you, dirt bag." Dave pushed the suspect's face into the ground. Dave spoke to his partner. "Look for some kind of a secret room," he glanced back at Annie.
She remembered the musty odor; it reminded her of the root cellar at her uncle's farm. "It's underneath the shed."
Dave sighed, he felt like he was losing his mind and then he repeated her words again, "Check underneath the shed. Look for a trap door in the floor."
also available in foreign translations
Portuguese ~ Italian ~ French ~ Spanish
KARMA VISITED by Chelle Cordero
(from pg 13, Smashwords online edition)
"In this business I need to be married and this community frowns on divorce. So I'm stuck."
"Please tell me you don't love her."
"Don't worry Mother, I never did. So long as she keeps up appearances though, I'll keep her around."
Annie could never forget the sickening feeling she had hearing him say that he didn't love her, that he never loved her. With the losses she suffered at such an early age, and moving away from the only family she did know, thinking she was loved by Scott meant everything to her. Losing that feeling of security was almost more than she could bear. Annie felt alone again. She continued eavesdropping even though she knew it would only bring her more pain.
"And what happens if little miss psycho gets out of line?"
"Then I have her committed and snatch up the sympathy vote." He laughed as he spoke.
"You could always do that anyway."
"Hmm,' he thought about it. "You're right. It definitely could give me a boost. Besides, family values, I can be a devoted husband standing by his sick wife. Yeah, it could work. And it would actually leave me free to have a real life without making any commitments."
Annie knew then what she had to do. She had to save enough money to be able to afford to leave. Scott told her he would never let her go, at least not until he was ready to get rid of her There was no one in town who would help her and no where she could go, he had already convinced several of the folks in town that she was suffering from mental illness. Ironically these were the same people Annie might have tried to go to for help in escaping his stranglehold. He elicited their cooperation in keeping an eye on her for him, for her own safety of course. Even the local minister called Scott the day she went to the church looking for help. She needed money to get away and a plan that would work quickly and quietly, and she had to do it by and for herself.
Buy Links
After Karma Visited…
Annie's Karma by Chelle Cordero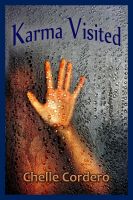 Do You Believe in Karma?
Annie Furman has a gift that allows her, while she sleeps, to visit people in their time of need – but who will be there for her when she needs help?
Undersheriff Dave Turner is investigating a series of home invasions and homicides. He has no idea that solving this case will lead him to the woman of his dreams.
Excerpt from Annie's Karma:
"
We just got into town. I haven't had a chance to make any connections yet. I'm trying to get a job and I have to open a bank account. I just enrolled my son in the school." Donna took the handwritten receipt from Annie's hand. "Thank you. This apartment will be perfect. I'm grateful that you're renting it to us."
Donna explained to Annie that she and her four-year-old son were slowly meandering their way across the country, but she realized that the child needed a stable place to live instead of being on the move constantly. She was driving through and liked the small town atmosphere she noticed in Catawai. Donna told Annie that she was a recent widow and that her husband died of cancer, it was already very advanced when they discovered it. Neither she nor her late husband had any family. She wanted to move away and get a fresh start where there weren't so many memories. She wanted someplace where her little boy could grow up without the constant reminders of a dad who was no longer there for him.
"
There wasn't much that Gene left us, but he had taken a small term life insurance policy, so at least I have cash in my pocket to pay our way for a bit without worrying too much." Donna shrugged. "Hopefully I'll get that job I interviewed for…"
Annie listened sympathetically and tried not to ask too many questions, but she noticed a look in Donna's eyes that she thought she could understand even without knowing why. She couldn't say for sure, but she knew that Donna wasn't being entirely truthful. Annie suddenly realized why she felt connected with the woman. She wondered if she had ever had that same look during the years she needed to escape from Scott. Annie decided not to question Donna's story, at least not for the time being. Maybe she could even find some way to help the other woman.
Buy Links

Annie's Karma
 by Chelle Cordero
Annie Furman moves on from her past and into her future with Undersheriff Dave Turner. Her gifts – or are they her curse? – grow stronger, and she finds out that she is not alone in the realm of astral travel. Dave saved her life, now she has to fight another 'traveler' to save Dave… if she survives.
Coming Soon!
 
Author Chelle Cordero
Chelle Cordero writes stories of Passion and Suspense. Vanilla Heart Publishing has published ten Cordero novels: Bartlett's Rule; His Lucky Charm; Within the Law; Courage of the Heart; Final Sin; Hostage Heart; A Chaunce of Riches; Common Bond, Tangled Hearts; Hyphema; and Karma Visited. She is currently working on her next novel and promises another action packed adventure and heartwarming love story. Chelle has been writing both fiction and non-fiction for the bulk of her adult life and has been with Vanilla Heart Publishing since early 2008.
Her books have earned many plaudits which includes: Bartlett's Rule was named one of Carolyn Howard-Johnson's Top Ten Reads for 2009; Final Sin was an Honorable Mention in the Fiction Category of the 2010 NY Book Festival and a 2009 Pushcart Prize nominee.; Hyphema won the Dec 9, 2011 Friday Book Cover Vote on the Shades of Love website; A Chaunce of Riches was Winner of D. Renee Bagby's readers' choice for The Best Overall First Chapter, April 2010; and Hostage Heart, Final Sin and A Chaunce of Riches had top ten finishes in the 2009 Preditors' and Readers' poll. Chelle was also featured in "50 Great Writers You Should Be Reading" published by The Author's Show in 2010.
Chelle Cordero maintains an author's blog at http://chellecordero.blogspot.com/, a promotional blog at http://ccepotourri.wordpress.com/, and offers a weekly writing workshop for Kindle Blog subscribers at http://bit.ly/pILcG.
Her website at http://ChelleCordero.com offers information on all of her books and her appearances. Bloggers and the media are welcome to visit Chelle's media room at https://chellecordero.com/media/ with downloadable photos and other information.
Be sure to LIKE Chelle's FaceBook page at https://www.facebook.com/AuthorChelleCordero and follow her on Twitter at https://twitter.com/ChelleCordero.
You can email Chelle at ChelleCordero(at)gmail.com.
Chelle lives in the northeast with her husband, Mark, and family. They have two adult offspring. Jenni and Marc (& Trish); they also live with three mischievous and spoiled pussycats, one of whom has taken up permanent residence on Chelle's desk. Chelle is a full-time freelance journalist for multiple publications; her articles appear regularly throughout North America and she writes a monthly column on NYS Emergency Medical Services issues as a (retired) NYS Emergency Medical Technician (First Responder News).
Annie's Karma is a sequel to Karma Visited
Buy Links
  and also in Spanish