You are currently browsing the tag archive for the 'Audio Book' tag.
The contest is over! Thank you all for entering.
The winners have been chosen (& notices sent out)
Paula M won an audio copy of Hostage Heart
Karen M won an e-book copy of Hostage Heart
Stella M won an e-book copy of Hostage Heart
Every week I participate in a blog hop hosted by the Weekend Writing Warriors (also shared by the Snippet Sunday Facebook group) – Writers post 8-10 sentences from one of their stories (poems or blog posts as well) and readers hop around reading tantalizing snippets and are welcomed to comment – we encourage comments from all!
Anyway, since today is the 10th anniversary of Hurricane Katrina's landfall in New Orleans and my book Hostage Heart was inspired by stories of rescue and aid, I am posting the links to snippets I posted from the book. Please enjoy:
The bank robbery
Danger
Miss Goody Two-Shoes
No money for ransom
Because they sleep together
Mamere called it vibrations
Confusion
Temptation
Foreboding
Death
We have a problem
Three months later
And if you like what you read, please enter my Rafflecopter contest and maybe you'll win a FREE Audio Book or one of two E-books of Hostage Heart!
a Rafflecopter giveaway
//widget-prime.rafflecopter.com/launch.js
It's been ten years since Hurricane Katrina and Hurricane Rita ravaged the coastal communities off of the Gulf of Mexico. The devastation in Louisiana and especially New Orleans was heartbreaking and frightening. More than 1500 people died in Louisiana as a result of the storms and flooding.
My husband spent six weeks as a first responder down there giving medical aid and other assistance. When he came home he was filled with stories about the resiliency of the people who lived down there, about their remarkable spirit and their determination.
His stories inspired me to write Hostage Heart – to commemorate this event I am giving away a free audiobook download of Hostage Heart to one person who comments on my Author Facebook Page post about Hurricanes Katrina and Rita. Just follow this LINK to be entered in the drawing
Win a FREE Audio Book or one of two E-books
a Rafflecopter giveaway
//widget-prime.rafflecopter.com/launch.js
My Rafflecopter giveaway is LIVE – There are THREE prizes: An audio-book of Hostage Heart and TWO (1 each) e-books of Hostage Heart. Earn points (entries) by following the simple instructions
by Chelle Cordero
As a (volunteer) Emergency Medical Technician, I know what it is to arrive at a scene in a "big truck" with lights flashing and sirens blaring. I admit there is a bit of inflated ego to run into a scene and have strangers clear the way for you to reach a patient in need. There is also a momentary panic inside to look at your patient's eyes as they look to you for help, sometimes to save their life, and the adrenaline kicks in to do all that you can do to make them more comfortable and get them to the hospital alive.
In over 25-years of doing this, I've known the euphoria of delivering babies, the desperations of knowing how precious every second is, the frustration of losing a patient, and the tears shed as a family member clings to you because you are their only hope.
EMS is a passion of mine. Whether an EMS provider career or volunteer, I have tremendous respect for everyone who takes their training and goes out into the world with the most important equipment, their hands and their brain, to use the equipment on an ambulance to make a difference. My husband and I both joined a volunteer ambulance squad when our two kids were little – and they grew into the EMS family. In addition to (still) volunteering for the same ambulance corps, our daughter is a career Paramedic and our son is a career EMT. (& forgive my crassness, but I am damn proud of them both).
Perhaps this is why I enjoy creating characters who are first responders. I've lived it, I've loved it, I respect it.
One of the characters I really enjoyed writing about is Julie Jennings, the heroine of my mystery thriller Final Sin. Julie is a NYS Paramedic, she is also a passionate woman who likes to live life to its fullest and cares for the people around her completely. Like most real life first responders, Julie isn't in the field for "the money" (EMS is a truly under-appreciated profession) – she is in it to help.
Blurb for Final Sin
Deputy Sheriff Commander Jake Carson has his hands full with the investigation of a brutal multiple homicide, a troubled son and a vindictive ex-wife when he meets young, free-spirited paramedic Julie Jennings. He is immediately drawn to her and finds himself unexpectedly falling in love. Julie finds herself just as drawn to him. When Julie becomes the subject of an obsession, it puts both of their lives in extreme danger…
I started a Listopia list on GoodReads for Everday Heros; The main character(s) is a first responder (EMT, Paramedic, Police Officer, Fire fighter, etc). Why don't you take a moment to go there and check it out? Please add any books you've read that fit the description and please vote for the ones that are there (three of mine are listed: Final Sin, Hyphema, and Within the Law)
~~~~~~~~~~~~
(the following did not appear in the original post)
June is Audio-Book month
Audible Audio Editions
coming soon Within the Law
I'm participating in Brenda Novak's 10th Anniversary Online Auction for Diabetes Research – the auction runs through May and there are LOTS of terrific items being auctioned off; proceeds go to The Diabetes Research Institute.

BARTLETT'S RULE shares the story of Lon and Paige's love affair; a romance filled with hardship, emotion, danger and triumph. Falling in love was never the challenge; being there for each other, knowing just what to say and making it work is the real test. Paige and Lon are real; they are human, they cry and they laugh. Paige has to learn to trust. Lon has to learn to be patient.
At the conclusion of the auction, Chelle will send the winner the code
to download the book to the device or computer of their choice directly from Audible.com
~~~~~~~~~~
Malcolm Campbell's review  of Bartlett's Rule
At first glance, Paige Andrews' approach to celebrity writer and celebrated womanizer Lon Bartlett is reminiscent of a child's first day at the beach, a child who runs down to the incoming waves only to run back to the safety of the dunes beyond the water's reach, and then again, and then again. Indeed, she desperately wants her evolving relationship to be as spontaneous and carefree as first love.But in looking closer, as both lovers and mad men are apt to do, Lon sees that behind Paige's engaging smile lie painful memories of man named Hal who raped her and all but took away her ability to get close to anyone again. Lon's best intentions trigger Paige's worst fears.
"Bartlett's Rule" is an easy-to-read novel about difficult-to-resolve issues for rape survivors and the prospective significant others in their lives. For Paige and Lon, sorting out the boundaries of trust and the limits of patience is a treacherous undertaking because they are very much in the public eye and because Hal's arrogant needs are not yet satisfied.
Unfortunately, Paige's dysfunctional family is also not out of sight and out of mind, providing additional twists and turns in the plot to keep readers guessing about choices and outcomes until the last page.
Can you hear it now? YOU BET!
 Courage of the Heart by Chelle Cordero is now available as an AUDIOBOOK on Audible, iTunes, and on Amazon! Also in All Ebook Formats and  Print Editions. 
Courage of the Heart shows us that sometimes love is the only cure for the very deepest of emotional wounds. Adam Sherman has remained quiet about his scandalous past and is comfortable with his reputation as a womanizing and dedicated bachelor. Davie Prescott is twenty years old and a college student working part-time at the same Internet Provider where Adam is employed. 
Adam is attracted to Davie, but he shies away from her innocence because he feels his shameful past is too harsh for her existence. Adam finally shares his darkest secret with Davie and is amazed to find that she doesn't turn away from him. 
But when Adam's past catches up to him, he soon learns that there's a lot more at stake than just his nightmares. Adam is prepared to give Davie up if need be in order to protect her until he learns that she´s got a secret of her own. With Davie´s help, Adam learns a courage that is born of love, courage of the heart. The story of the two lovers takes a series of unexpected and fast paced turns where lives, sanity and love are put in jeopardy.
 Review
 Courage of the Heart by Chelle Cordero begins as an office romance that quickly turns into an unlikely love affair. In one fell swoop, life changes when the past confronts the present with mystery, intrigue and life threatening situations. More than once I found my heart racing as I turned the page. Kudos to Ms. Cordero for penning an entertaining read.
kgcummings… Kathy
author of The Wind Whispers War and it's sequels
 Courage of the Heart is narrated and produced by Raquel Gliss, professional voice-over artist and narrator in her early 40's specializing in the narration of romance and erotic novels.    
AUDIO, PRINT, and ALL ELECTRONIC EDITIONS 
BUY LINKS
 AUDIO –  http://www.amazon.com/Courage-of-the-Heart/dp/B00DQYAM2S
 And if you decide to use the Amazon-exclusive Audible.com 30-day free trial membership it includes:
This audiobook free, plus a bonus audiobook of your choice
Exchange any book you don't like with our Great Listen Guarantee
Total flexibility – cancel, pause or upgrade membership easily and whenever you like
PRINT – http://www.amazon.com/Courage-Heart-Chelle-Cordero/dp/193540718X
Kindle – http://www.amazon.com/Courage-of-the-Heart-ebook/dp/B001PO5RJE
AllRomance Ebooks – https://www.allromanceebooks.com/product-courageoftheheart-17784-149.html
Smashwords for All Ereaders – https://www.smashwords.com/books/view/1553
Payloadz Instant Download – http://store.payloadz.com/go?id=853573
My short story collection,
is NOW available on Smashwords
~and~
is now available in an Audio Book!
~~~~~~~
Fiction » Romance » Contemporary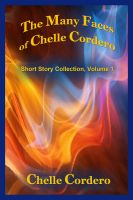 By Chelle Cordero
Published by Vanilla Heart Publishing
Published: June 06, 2013
Words: 22,145 (approximate)
Language: English
ISBN: 9781301796809
Description
The Many Faces of Chelle Cordero is a single author collection of short stories featuring Introduction, Pussycat Tails, Holiday Happiness, Not Alone, I Swear That Raccoon Just Knocked on the Door, Stormy Weather, A Mother's Love, More Than a Friend, The Meeting, The Vacation and a special bonus section.