You are currently browsing the tag archive for the 'EMS Week 2015' tag.
EMS Novels by Cbelle Cordero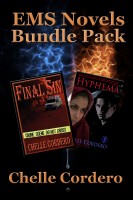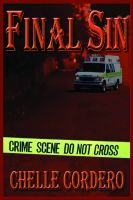 Final Sin
by Chelle Cordero
Deputy Sheriff Commander Jake Carson has his hands full… investigation of a brutal multiple homicide, a troubled son and a vindictive ex-wife. He meets young, free-spirited paramedic Julie Jennings. When Julie becomes the subject of an obsession, it puts both of them in danger.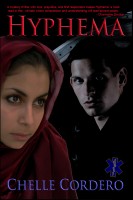 Hyphema
by Chelle Cordero
Hyphema: Bleeding in the eye caused by trauma… Matt Garratti, a paramedic from New York, moves his wife and son to North Carolina to work at his dream job as a flight medic. Pakistani born Sudah, his wife, receives frosty stares and insensitive comments from their new neighbors… Matt wonders if he is pursuing his dream or bringing his family into a nightmare from which they may never wake.
Books by Chelle Cordero
A paramedic rests his head on his arm and leans against the ambulance's back door for support. The stretcher is missing and discarded items lay forgotten on the floor, remnants of what obviously was a chaotic, traumatic scene. Closer inspection reveals a teddy bear seated in the back of the ambulance, making the scene even more heartwrenching.  (read more)
(article from   
 )
STROKE is an Emergency. ACT FAST!
Stroke is prevalent and life-threatening
780,000 strokes are estimated to occur annually in the United States
Stroke is the 3rd leading cause of death and a leading cause of disability
The longer a stroke goes untreated, the greater the chance of permanent neurologic damage
Rapid intervention is crucial in the treatment of stroke
(read more)
(info from   
 )
In 1972, NBC-TV paved the way for EMS awareness with the ground-breaking show 'Emergency!' (starring Randolph Mantooth and Kevin Tighe). The show depicted paramedics providing a high level of pre-hospital emergency care; at the time there were only about a dozen paramedic units operating across the United States. The show dramatically changed the way America viewed Emergency Medical Services. Amazingly, there are folks who believe that EMS only began with 'Emergency!' – They don't realize that an emergency medical response system began in this country as far back as 1865 and was run by the Army.  (read more)
(an EMS Issues article from   
)
Emergency Medical Services, more commonly known as EMS, is a system that provides emergency medical care. Once it is activated by an incident that causes serious illness or injury, the focus of EMS is emergency medical care of the patient(s). EMS is most easily recognized when emergency vehicles or helicopters are seen responding to emergency incidents. But EMS is much more than a ride to the hospital. It is a system of coordinated response and emergency medical care, involving multiple people and agencies. A comprehensive EMS system is ready every day for every kind of emergency.
(info from   
 )
The History of EMS Week
The U.S. Congress authorized the Emergency Medical Services Systems (EMSS) Act of 1973. In 1974, President Gerald R. Ford signed this bill and appointed David R. Boyd as the director of the Division of Emergency Medical Services Systems (DEMSS), Public Health Service, Department of Health, Education and Welfare. Boyd convinced President Ford to proclaim "Emergency Medical Services Week" and to host a White House Conference on EMS. Gerald Ford is the "Hero" of the national EMS story, a true believer who supported EMS during difficult political, economic, and budgetary times.  (read more)
May 17 thru 23 is EMS Week 2015. The slogan is EMS STRONG and I'll be offering special chances to win FREE audiobooks and e-books of my EMS novels Final Sin & Hyphema… and more!!!!
Watch for info
on my Facebook Author Page
on my website ChelleCordero.com
and on my blog ChelleCordero.blogspot.com
I was a NYS Emergency Medical Technician, CPR and First Aid Instructor, and volunteer with a local ambulance corps for nearly three decades. I responded to numerous emergencies, performed CPR, delivered babies, transported trauma victims and sometimes just offered comfort to a patient during transport to the hospital. I write a monthly column on EMS Issues for First Responder Newspaper and articles for other EMS publications. And I've written two novels based on EMS.
My entire family is a blend of both volunteer and career EMS and Emergency Medical Services will always be near and dear to my heart.
Happy EMS Week to all EMS personnel.
Thank you EMTs & Paramedics for all you do.
Special stuff is happening next week
members of my Street Team "Chelle's Crew"
and members of the ChelleWrites Yahoo Group
already know what it is!
If you want to be IN THE KNOW go to the
ChelleWrites Yahoo Group
to join or send me a message  for an invite to my private
FB group & street team "Chelle's Crew".
(contact me on Facebook Author Chelle Cordero  or  here on my website)