You are currently browsing the tag archive for the 'prejudice' tag.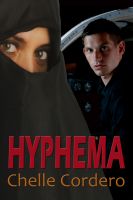 Paperback Pre-Order from Amazon
Kindle from Amazon
multiple formats ~ Smashwords
Hyphema: Bleeding in the eye caused by trauma
Matt Garratti, a paramedic from New York, moves his wife and son to North Carolina to work at his dream job as a flight medic. Pakistani born Sudah, his wife, receives frosty stares and insensitive comments from their new neighbors. Before long, Matt wonders if he is pursuing his dream or bringing his family into a nightmare from which they may never wake.
Editorial Reviews
In Hyphema, author Chelle Cordero meets headlong a number of real problems facing her characters. She doesn't sugar-coat cultural differences and prejudice. The series of incidents and the deaths faced by Matt and Sudah cause them to face these problems and gives the love story a depth well-done. —Janet Lane Walters

Ms. Cordero tackles such amazingly current topics-hate, prejudice, fear of the different, with such enjoyable, suspenseful, and well-researched background, that this reader will be following her closely to see what she writes next. Each medical scene resonates with reality, and each chapter flows into the next with a flutter in the pit of the stomach for what is coming, as well as what has been. —Brian Davidson
ISBN-10: 1935407848

 join me on the HYPHEMA virtual book tour,
all past posts are still active links
Please leave comments – lots of them!
Apr 21 Lindsay's Romantics
Apr 23 Jeanne St. James
Apr 24 Anne K Albert
Apr 26 Chelle Cordero, author
Apr 29 The Book Connection
May 1 Rochelle Weber
May 2  CCE613 on Xanga
May 3 Charmaine Gordon
May 8 Malcolm's Round Table
May 10 You Gotta Read
May 11 Roseanne Dowell
May 18 Skylar Kade
May 19 May Awareness Project
May 23 Stephanie Burkhart
…and elsewhere:
Teaser Tuesday on the Writer's Notebook
&
First Book Stories on The Professional Writer's Connection