Do you want a FREE short story?
Sign up for the
ChelleWrites Yahoo Group
http://yhoo.it/1QoOHun
You will get each of my blog posts delivered to your e-mailbox PLUS ChelleWrites members get occasional Free Goodies
…and you can decide how often you want mail (read the details when you sign up.
Welcome to Chelle Cordero News!
You'll receive a .pdf copy of NOT ALONE in your e-mail after sign up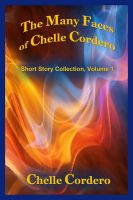 The Many Faces of Chelle Cordero is a single author collection of short stories featuring Introduction, Pussycat Tails, Holiday Happiness, Not Alone, I Swear That Raccoon Just Knocked on the Door, Stormy Weather, A Mother's Love, More Than a Friend,
The Meeting, and The Vacation