There isn't much better than
getting FREE stuff!
Although it isn't half-bad being
the one giving it away…
Here is what I have for you:
Download Chelle's audio story NOT ALONE
from this short story collection [FREE]
(
narrated by Wendy Tremont King
)
 A fifteen minute short story in Audio
~~~~~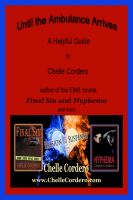 Until the Ambulance Arrives – A helpful guide by Chelle Cordero, Emergency Medical Technician, CPR and First Aid Instructor, and long-time volunteer with her local ambulance corps. Chelle is a multipublished author, journalist and writer for multiple publications, and has included teaser chapters of her two EMS Novels – Final Sin and Hyphema – in this free e-book.
~~~~~
Consistently rated in the Top 100 for Amazon Kindle Blogs, Chelle Cordero""s Living, Breathing, Writing is now available in EBook form and here is a generous sample! Check out the Table of Contents to see all the chapters and Bonus content!
~~~~~
Read
Chelle Cordero's 2013 Sampler
for a generous taste of
all her suspense novels, her short story collection, and her
books on writing and being a writer. More than 230 pages.
~~~~~
& FREE BOOK DISCUSSION PACKETS:
 Karma Visited (pdf file)
Bartlett's Rule (pdf file)
His Lucky Charm (pdf file)
Final Sin (pdf file)
Hyphema (pdf file) 
Hostage Heart  (pdf file)
Courage of the Heart (pdf file)
Common Bond, Tangled Hearts (pdf file)
Within the Law (pdf file)
A Chaunce of Riches (pdf file)